Springfree Jumbo 13ft Square Trampoline with FlexrHoop and Flexstep Ladder
https://www.scheels.com/p/springfree-jumbo-13ft-square-trampoline-with-flexrhoop-and-flexstep-ladder/182464000441123.html
Select your options for the 3 products in this package:
Products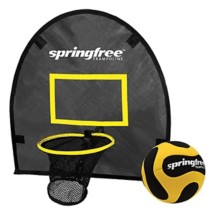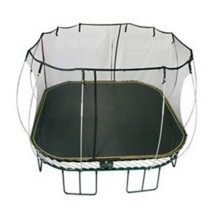 Discounted Price
$1,624.99
$2,499.99
Save $875.00
Free Returns
SCHEELS Guarantee
Earn 8100 Points with SCHEELS Visa Rewards
Product Description
182464000441123
The Springfree Jumbo Square 13ft Trampoline is perfect for large families and active kids! The Springfree Jumbo square trampoline doesn't use metal springs to provide a larger jumping area as well as reduces the risk of injury. With three layers of rust protection, the Springfree Jumbo square trampoline's frame is super durable and sits below the jumping area for safety. Plus, the Springfree Jumbo square trampoline includes the FlexiNetTM enclosure to prevent falls and the SoftEdgeTM mat to absorb shock. Add some fun to the backyard this summer with the Springfree Jumbo Square 13ft Trampoline.

Trampoline Features:
Ideal for a spacious backyard
FlexiNetTM enclosure prevents falls
Hidden frame design for added safety
3 layers of rust protection for durability
Flexible composite rods instead of metal springs for safety
SoftEdgeTM mat is 30 times more shock absorbent than pads
Specs:
Total Height: 9.3 ft.
Model Number: S155
Size of mat: 13 x 13 ft.
Jumper Weight: 220 lbs.
Surface Area of Mat: 155 ft.2
Total Space Required: 21 x 21 ft.
Height of FlexiNet above Mat: 6 ft.
Height of Mat above Ground: 3.3 ft.
Flexr Hoop Features:
1 pump
4 plastic clamps
2 long support rods
2 short support rods
1 instruction manual
1 neoprene basketball
Cable, ties, bolt, and nuts
Hoop and backboard (partially assembled)
Specs:
Weight: 7.4 lbs.
Box Dimensions: 35.4" L x 37.4" W x 3.9" H
Flexrstep Ladder Features:
Allows for easier entry onto the trampoline
No permanent installation for easy removal
Compatible with Springfree trampolines only
Features a lock to restrict unsupervised jumping
Built with materials and design of Springfree trampolines
Includes:
2 Rods
1 Ladder
1 Ladder Base
1 Net Zipper Lock
1 Instruction Manual
Specs:
Weight: 9.5 Ibs.
Weight Limit: 154 Ibs.
Dimensions: 25.5 x 17.1 x 3.75in.