Tactacam
Tactacam Reveal X Gen 2 Cellular Trail Camera 2 Pack
Discounted Price
219.99
$219.99
$269.99
Save $50.00
Get a $75 E-Gift Card When Instantly Approved
and use your new SCHEELS® Visa® Card online today.
Capture With Certainty
Dual-Carrier Compatability
Includes a Verizon and AT&T SIM card to allow user access to the best coverage in their area.
Speed
Sub 1/2 second trigger speed and faster picture delivery via the app.
Easy Setup
On-Board Wi-Fi connects to the app for simple set-up and live view option with instant image capture.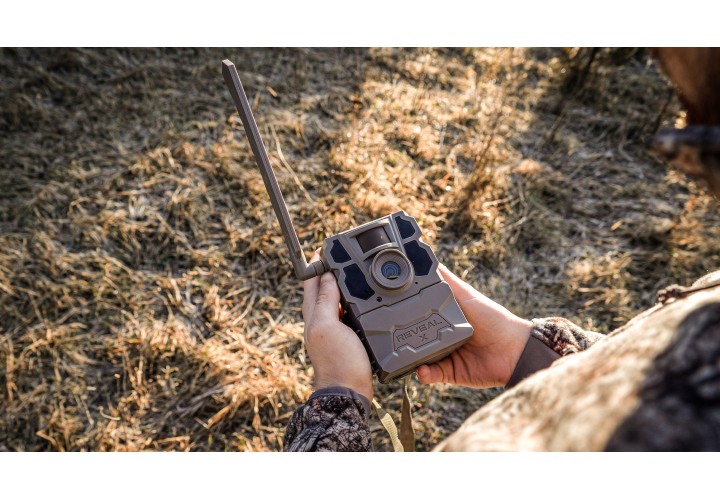 Product Details
Tactacam Reveal X Gen 2 Cellular Trail Camera 2 Pack
81012675031
Enhance your wildlife tracking with the Tactacam Reveal X Gen 2 Cellular Trail Camera 2 Pack from SCHEELS. This innovative camera boasts features like an easy-to-use mobile app delivering daily status reports, versatile month-to-month data plans without contracts or fees, and on-board Wi-Fi allowing simple set-up. Its dual carrier compatibility with Verizon and AT&T, sub 1/2s trigger speeds, remarkable 96+ feet animal detection, and the ability to request HD videos and photos directly from the app make this camera an invaluable asset for outdoorsman and hunters. With additional advantages like IP66 waterproof certification, better battery life, adjustable night illumination, and an external port for a solar panel, this trail camera contributes to improved efficiency on every adventure. Experience the benefits of advanced wildlife capture technology with the Tactacam trail camera at SCHEELS!
Features
On-Board Wi-Fi connects to the app for simple set-up and live view option with instant image capture
Month-to-month data plans—no contracts/activation fees
Easy to use mobile app with daily camera status reports
Dual carrier compatible (Verizon and AT&T)
Request HD videos and photos from the app
External port for solar panel
Adjustable night illumination
Detects animals at 96+ feet
IP66 waterproof certified
Sub 1/2s trigger speeds
Faster picture delivery
Improved photo quality
Better battery life
Specs
The camera will stop pinging the cell tower constantly after 5 minutes until activity restarts OR the normal check-in time occurs
The camera stays connected to the server for 5 minutes after receiving a picture on the app
Hybrid Mode: Mix between the daily and instant settings check
1-year manufacturer's warranty
Style #: TA-TC-XG2
California Residents
WARNING: Cancer and Reproductive Harm - www.P65Warnings.ca.gov