Ultraview UV3XL Hunting Kit / HHA Sports Tetra RYZ Sight Bundle
https://www.scheels.com/p/ultraview-uv3xl-hunting-kit-%2F-hha-sports-tetra-ryz-sight-bundle/71641523074UV3XLHKUV.html
Item No.
71641523074UV3XLHKUV
Select your options for the 3 products in this package:
Products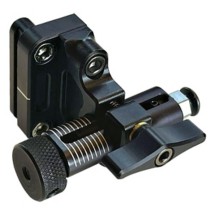 Free Returns
SCHEELS Guarantee
Earn 1470 Points with SCHEELS Visa Rewards
Product Description
71641523074UV3XLHKUV
Ultraview UV3XL Hunting Kit
Features:
UV3XL has an inside diameter of 41mm. The UV3 has an inside diameter of 31mm.
Reference the compatibility chart in the images to figure out which UV - Scope Rod you need.
The Hunting Kit comes with everything you need to start shooting out of the box. Everything is pre-installed (including batteries) so all that you have to do is mount it and start shooting.
The new advanced light has 10 brightness levels, 5 individual LED's for optimal brightness, auto off (after 4 minutes), allows you to light up your level and is 100% waterproof. To light up your level, hold the power button for 2 seconds.
The up-pin is constructed out of a single piece of aircraft grade aluminum to ensure it is crazy tough.
Mounts onto Axcel, Shibuya, Sure-Loc, B3, CBE or any sight that accepts 10-32 threaded rods.
Over 6hrs of battery life at 80% brightness - takes two cr2025 batteries (can be found anywhere, common size).
Easily swap from one lens/hunting cartridge to another depending on what discipline you are shooting.
100% Ambidextrous. Works for Right Handed and Left Handed shooters.
The distance between the pins on the double pin set up is 0.25".
Model#: SB-RYZ-TE-900
The Tetra RYZ is available in a 4"-5" short bar dovetail. All dovetails are compatible with Mathews Bridgelock™ and also come with a dovetail puck to mount conventionally.
RYZ Long Distance Tapes Included: Some tapes going past 150 yards!
2.1" of Silky Travel
Dual Needle Indicators ¼" apart to perfectly align with the Ultraview Two Pin Scopes
HHA Ultraview Scope Adapter
The HHA Ultraview Scope Adapter allows you to adapt your Tetra sight (2020 models and newer) to be compatible with an Ultraview scope. The UV-MICRO comes with the entire HHA windage system which includes a windage rod specific to any Ultraview scope, an Infinite Adjust Plate, as well as a T-rail.