UGG
Women's UGG Classic Mini II Boots
Get a $75 E-Gift Card When Instantly Approved
and use your new SCHEELS® Visa® Card online today.
Earth-Conscious Luxury
Crafted with Responsible Materials
This product includes at least 40% recycled, renewable, regenerated, or certified natural materials by weight and helps reduce our environmental impact. The sugarcane in our SugarSole™ foam allows us to reduce dependency on fossil fuels.
Post-Applied Treatment
Treated to repel light amounts of water. Product should be re-treated periodically to maintain protection.
Sheepskin Lining
Vetted through extensive, industry-leading processes to ensure only the highest quality sheepskin makes the cut, delivering the signature feeling of UGG.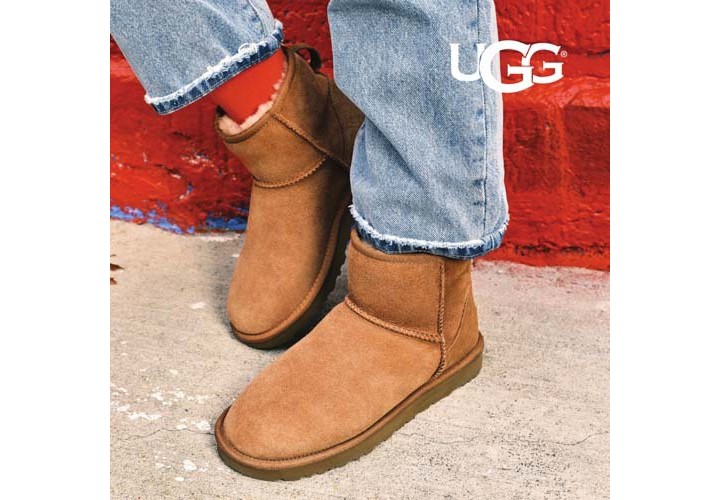 Product Details
Women's UGG Classic Mini II Boots
737872-1016222
Experience enduring comfort and style with the Women's UGG Classic Mini II Boots from SCHEELS. These plush boots, with a Twinface sheepskin upper and a cozy 17mm sheepskin lining and insole, provide the ultimate foot comfort on casual days. Treated with a water-repellency application for stain and water resistance, these boots stand ready to brave any weather while keeping your feet dry. A durable and lightweight Treadlite by UGG or SugarSole EVA outsole enhances cushioning, while an easy rear pull tab and stylish overlock stitch detailing make these boots as practical as they are chic. Shop the UGG Classic Mini II Boots and more from our selection at SCHEELS and step up your footwear game!
Features
* This product contains real fur from sheep or lamb. Fur may be sourced from Australia, Ireland, the United Kingdom, or the United States. It has been artificially dyed and treated., * Protected: Post Applied Treatment
* Best for: Casual
This product contains real fur from sheep or lamb. Fur may be sourced from Australia, Ireland, the United Kingdom, or the United States. It has been artificially dyed and treated., * Protected: Post Applied Treatment
* This product contains real fur from sheep or lamb. Fur may be sourced from Australia, Ireland, the United Kingdom, or the United States. It has been artificially dyed and treated.
* Polyester binding or textile binding made from 100% recycled polyester fibers
* Overlock stitch detailing on seams, Rear pull tab, Suede heel counter
* Treadlite by UGG™ outsole for comfort or SugarSole™ EVA outsole
Treadlite by UGG® outsole for durability and traction
* Rear pull tab, Overlock stitch detailing on seams
* Topically applied water repellency treatment
* Leather heel label with embossed UGG® logo
Pretreated for stain and water resistance
* EVA outsole or SugarSole™ EVA outsole
Lightweight sole enhances cushioning
* Protected: Post Applied Treatment
* 17mm Twinface sheepskin upper
Overlock stitch on seams
Rear pull tab for slip-on ease
* Recycled polyester binding
* 17mm sheepskin lining
* 17mm sheepskin insole
* 5" shaft height
Best for: Casual
* RN 88276
Specs
Outsole: Treadlite by UGG®
Upper: Sheepskin and suede
Shaft height: 5.5 in.
Lining: Sheepskin
Insole: Sheepskin
Binding: Nylon