YETI
YETI Tundra Haul Wheeled Cooler
YETI Tundra Haul Wheeled Cooler
NEVERFLAT WHEELS
Solid, single-piece tire construction is impact and puncture resistant.
STRONGARM HANDLE
Made with durable welded aluminum arm with comfortable grips for easy towing.
CAPACITY
13.8 Gallons | 45 12oz. Cans | 55lbs of Ice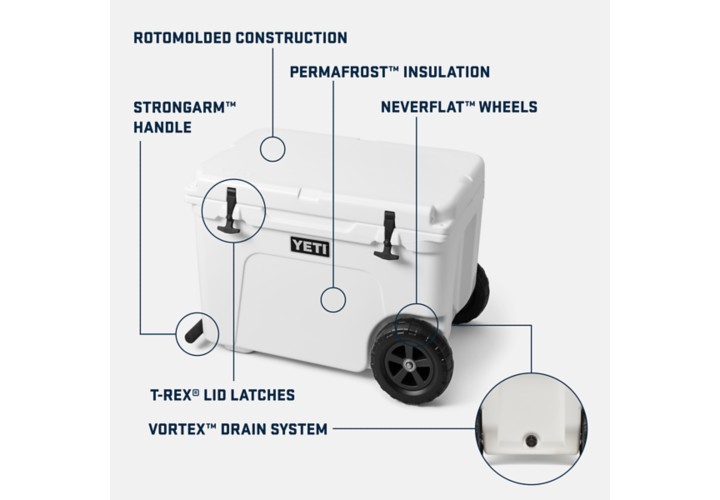 7APx430ybp4
YETI Tundra Haul Cooler
Take your next adventure to the next level with the YETI Tundra Haul Cooler
Product Details
YETI Tundra Haul Wheeled Cooler
88883003941
The YETI Tundra Haul Cooler takes legendary toughness and insulation to new levels. Complete with permafrost insulation and a ColdLock™ gasket, you can trust this YETI Tundra Haul Cooler to keep your food and drinks cold for hours and even days. With the capacity of holding 45 cans, you'll have plenty of room for all your beverages and food, while the Strongarm
TM
handle and wheel construction make it easy to transport the YETI Tundra Haul Cooler from your car to your campsite. Additional features include the rubber T-Rex
TM
lid system, Vortex
TM
drain system, and BearFoot
TM
Features
ColdLock™ Gasket provides freezer-quality by locking in the cold
Leak-proof Vortex™ Drain System provides quick and easy draining
Neverfail™ Hinge System uses interlocking design to prevent hinge from breaking
Strongarm™ handle provides durable welded aluminum arm with comfortable grips
InterLock™ Lid System prevents heat from getting in
Neverflat™ wheels are puncture-resistant
BearFoot™ non-slip feet prevent sliding
Permafrost insulation
Rubber T-Rex™ lid latches
Rotomolded construction for durability
Specs
Holds 45 cans
Holds 55 lbs. of ice
Empty weight: 37 lbs.
Inside: 12.625 × 6.5 × 15 in.
Outside: 28.25 × 19.5 × 18.625 in.