Arc'teryx Men's Tops & Bottoms Size Chart

Arc'teryx Men's TOPS Sizing Guide
| Size | Chest (in.) | Waist (in.) | Hips (in.) | Sleeves (in.) |
| --- | --- | --- | --- | --- |
| XXS | 34 | 28 | 33.5 | 31 |
| XS | 36 | 30 | 35.5 | 32 |
| S | 38 | 32 | 37.5 | 33 |
| M | 40 | 34 | 39.5 | 34 |
| L | 43 | 37 | 42.5 | 35 |
| XL | 46 | 40 | 45.5 | 36 |
| 2XL | 50 | 44 | 49.5 | 37 |
Arc'teryx Men's BOTTOMS ALPHA Sizing Guide
| Size | Waist (in.) | Hips (in.) | *Inseam (in.) |
| --- | --- | --- | --- |
| XXS | 28 | 33.5 | 31.5 |
| XS | 30 | 35.5 | 31.5 |
| S | 32 | 37.5 | 32 |
| M | 34 | 39.5 | 32.5 |
| L | 37 | 42.5 | 33 |
| XL | 40 | 45.5 | 33 |
| 2XL | 44 | 49.5 | 33 |
Arc'teryx Men's BOTTOMS NUMERIC Sizing Guide
| Size | Waist (in.) | Hips (in.) | *Inseam (in.) |
| --- | --- | --- | --- |
| 28 | 29.5 | 35.5 | 31.5 |
| 29 | 30.5 | 36.5 | 32 |
| 30 | 31.5 | 37.5 | 32 |
| 32 | 33.5 | 39.5 | 32.5 |
| 33 | 34.5 | 40.5 | 32.5 |
| 34 | 35.5 | 41.5 | 32.5 |
| 36 | 37.5 | 43.5 | 33 |
| 38 | 39.5 | 45.5 | 33 |
Measurements are in inches.
Note:If your measurements are between sizes, select a larger size for a looser fit or a smaller size for a tighter fit.
Several models of Arc'teryx pants are sized numerically and may be available in different inseam lengths. Please refer to the specific product page to see which waist size and inseam lengths Ïare available for your product.
*For all other pants available in numerical waist sizes where the inseam length is not specified, these following inseam lengths apply.
*Short inseam lengths subtract 2 inches
*Long inseam lengths add 3 inches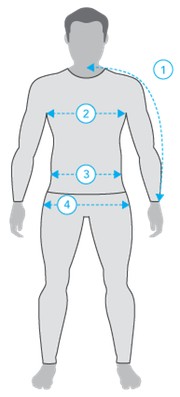 How to Measure:
Note:Calculate your own body measurements, then select your product size.
1. Sleeve: With arm relaxed at your side and slightly bent, measure from center back neck, across shoulder to elbow and down to wrist.
2. Chest: With arms relaxed at your sides, measure under your arms, around the fullest part of your chest
3. Waist: Measure around your waist at the narrowest part.
4. Hip: Standing with feet hip width apart, measure around your hips at the widest part.
5. Inseam: From a standing position, measure from your crotch down the inside leg to the floor.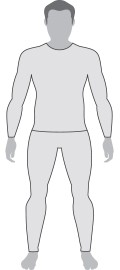 Next to Skin Fit:
Cut snug to the body through the entire garment to enhance moisture management and thermal efficiency.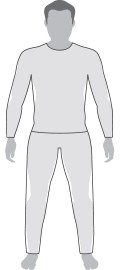 Trim Fit:
Cut slim to the body through chest, waist, hip and thigh for a low profile fit.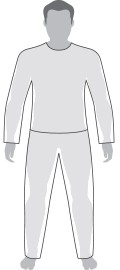 Regular Fit:
Cut comfortably from the body through bust/chest, waist, hip and thigh for a classic fit.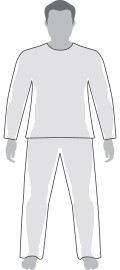 Relaxed Fit:
Cut loosely through the waist, hip, and thigh for a casual fit.