Columbia Men's Bottoms Size Chart

Columbia Men's REGULAR & TALL Bottoms Sizing Guide
ALPHA
Size
PANT
Size
Waist (in.)
Hips (in.)
Pant Inseam
Length (in.)
XS
28
26 - 27
32 - 33
30 / 32 / 34
XS
30
28 - 29
33 - 34
30 / 32 / 34

S
32
29 - 32
35 - 37
30 / 32 / 34

M
34
32 - 35
38 - 40
30 / 32 / 34

L
L TALL

36
36 - 37
41 - 42
30 / 32 / 34
34 / 36
L
*L TALL

38
37 - 38
43 - 44
30 / 32 / 34
*34 / 36
XL
*XL TALL

40
40 - 41
44 - 45
30 / 32 / 34
*34 / 36
XL
*XL TALL

42
42 - 43
45 - 46
30 / 32 / 34
*34 / 36
2XL
*2XL TALL

44
44 - 47
48 - 50
30 / 32 / 34
*34 / 36
*3XL TALL
46 - 48
48 - 51
52 - 54
*34 / 36
*4XL TALL
48 - 50
51 - 54
55 - 57
*34 - 36
Columbia Men's EXTENDED Bottoms Sizing Guide
ALPHA
Size
Waist (in.)
Hips (in.)
Pant Inseam
Length (in.)
1X
40 - 43
44 - 46
28 / 30 / 32 / 34
2X
44 - 47
48 - 50
28 / 30 / 32 / 34

3X
48 - 51
52 - 54
28 / 30 / 32 / 34

4X
51 - 54
55 - 57
28 / 30 / 32 / 34

5X
55 - 58
59 - 61
28 / 30 / 32 / 34

6X
59 - 62
63 - 65
28 / 30 / 32 / 34

How to Measure
1. Neck: Measure at the base or thickest part of your neck.
2. Sleeves: Start at the center back of your neck and measure across the shoulder and down to the wrist. Round up to the next even number.
3. Chest/Bust: Measure at the fullest part of the chest, under the armpits and over the shoulder blades, keeping the tape measure firm and level.
4. Waist: Measure around the natural waistline, allowing the tape measure to sit comfortably.
5. Hips: Measure around the fullest part of your hips.
6. Inseam: Measure from the top of the interior leg to the bottom of the ankle.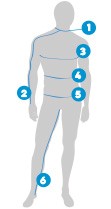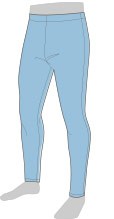 PERFORMANCE
Body contouring fit conforms to movement.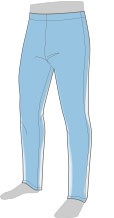 ACTIVE
Body skimming fit with end-use mobility in mind.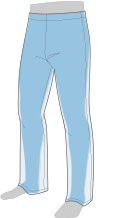 MODERN CLASSIC/REGULAR
Universal, easy fit for comfortable range of motion.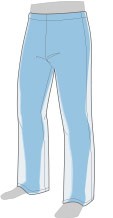 RELAXED
Most generous fit for a full spectrum of movement.