FootJoy Men's Footwear Size Chart
ARE YOU WEARING THE RIGHT SIZE?
The Proper Shoe Size Matters. Testing has shown a 6 - 21% increase in performance for people wearing properly fit golf shoes. Simple enough, right? Well, did you know more than 70% of people are wearing the wrong size?
Rule of Thumb
The opening at the top of your shoes should be about a thumbs width apart. Other factors, like arch height can affect this, but it is a good place to start.
Longest Toe
Leave about ½" of space between your longest toe and the end of your shoe.
Flex Point
When flexed, the break of the shoe should fall perfectly with the flex of your forefoot.
Listen
If the shoe's volume fits your foot, then you may hear a whoosh sound when you insert your foot.
Test Drive
There should be no excess movement in the shoe when you walk.
Swing Test
Simulate your golf swing and make sure nothing feels too loose or too tight.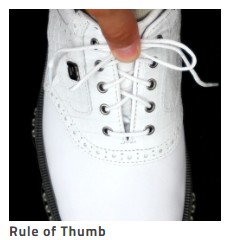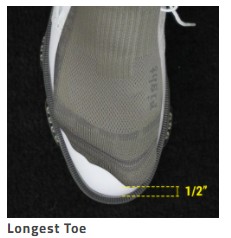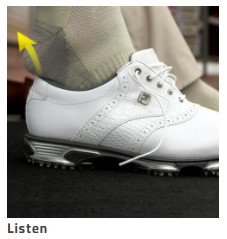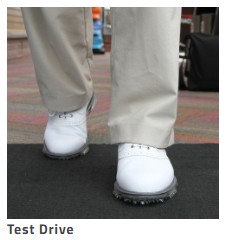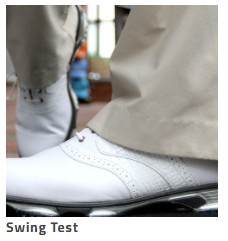 FootJoy Men's Footwear Sizing Information
| US Size | EUR Size | CM / Inches |
| --- | --- | --- |
| 4 | 35.5 | 22 / 8.7 |
| 4.5 | 36 | 22.5 / 8.9 |
| 5 | 36.5 | 23 / 9.1 |
| 5.5 | 37 | 23.5 / 9.3 |
| 6 | 38 | 24 / 9.5 |
| 6.5 | 38.5 | 24.5 / 9.6 |
| 7 | 39 | 25 / 9.8 |
| 7.5 | 40 | 25.5 / 10 |
| 8 | 40.5 | 26 / 10.2 |
| 8.5 | 41 | 26.5 / 10.4 |
| 9 | 42 | 27 / 10.6 |
| 9.5 | 42.5 | 27.5 / 10.8 |
| 10 | 43 | 28 / 11 |
| 10.5 | 44 | 28.5 / 11.2 |
| 11 | 44.5 | 29 / 11.4 |
| 11.5 | 45 | 29.5 / 11.6 |
| 12 | 46 | 30 / 11.8 |
| 12.5 | 46.5 | 30.5 / 12 |
| 13 | 47 | 31 / 12.2 |
| 13.5 | 48 | 31.5 / 12.4 |
| 14 | 48.5 | 32 / 12.6 |
| 14.5 | 49 | 32.5 / 12.8 |
| 15 | 50 | 33 / 13 |
| 15.5 | 50.5 | 33.5 / 13.2 |
| 16 | 51 | 34 / 13.4 |
| 16.5 | 52 | 34.5 / 13.6 |
| 17 | 52.5 | 35 / 13.8 |