Grundens Men's Apparel Size Chart
Grundens Men's Apparel Sizing Information
| Size | Chest (in.) | Waist (in.) | Hips (in.) | Sleeve (in.) |
| --- | --- | --- | --- | --- |
| XS | 34 - 35 | 28 - 29 | 33 - 34 | 33 |
| S | 36 - 37 | 30 - 31 | 35 - 36 | 34 |
| M | 38 - 40 | 32 - 34 | 37 - 39 | 35 |
| L | 42 - 44 | 36 - 38 | 41 - 43 | 36 |
| XL | 46 - 48 | 40 - 42 | 45 - 47 | 37 |
| XXL | 50 - 52 | 44 - 46 | 49 - 51 | 38 |
| 3XL | 54 - 56 | 48 - 50 | 53 - 55 | 39 |
| 4XL | 58 - 60 | 52 - 54 | 57 - 59 | 39 |
| 5XL | 62 - 64 | 56 - 58 | 61 - 63 | 39 |
1. CHEST = Measure around the fullest part, across chest points.
2. WAIST = Measure around the natural waist (where your body bends side to side).
3. HIPS = Measure around the fullest part of your hips.
4. SLEEVE = With elbow bent, measure from the center (back) of neck to elbow and down to wrist.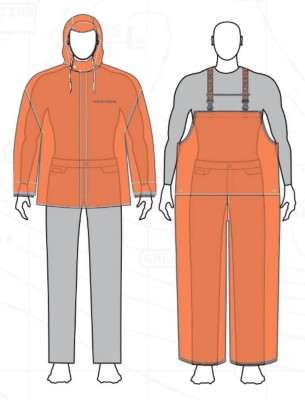 RELAXED FIT:
Relaxed Fit is our traditional fit, built from the same fit block as the original Brigg Jacket and Herkules (TM) Bib. This fit allows for more ease around the body, creating mechanical ventilation in PVC garments, and offers a more generous fit for bulkier layers underneath.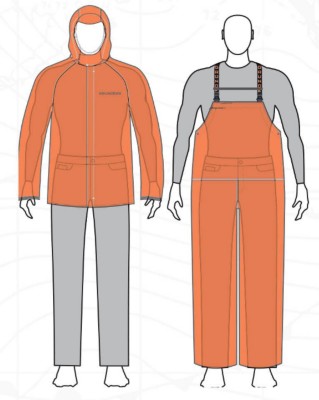 ACTIVE FIT:
Built with less ease to offer a more performance fit and increased range of motion. Active Fit is designed to work with technical layering systems, to optimize breathability. Offering a wide range of layering options for versatility and adaptability in changing conditions.