Hestra ADULTS' Sizing Guide
Size
Hand
Circumference (cm)
Men's US Size
Women's US Size
5
12.7


XSmall
6
15.2
XSmall
Small
7
17.8
Small
Medium
8
20.3
Medium
Large
9
22.9
Large
XLarge
10
25.4
XLarge


11
27.9
2XLarge


12
30.9
3XLarge


13
33.0
4XLarge


MEASURE YOUR HAND
Measure the circumference of your hand with a tape measure. If you don't have a tape measure you can use a string which you then measure with a ruler.
Compare the measurements with the size guide.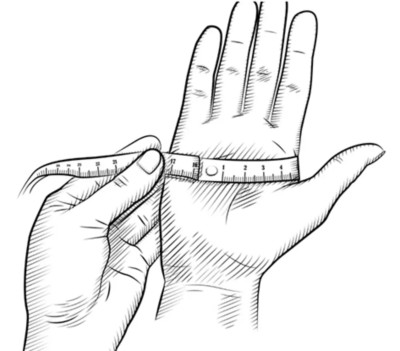 GENERAL ADVICE:
SIZE RECOMMENDATIONS FOR SPORT GLOVES
It is important to find the correct size from the start as sport gloves generally do not stretch over time. There should be a small gap between hand and glove to bind air which makes the glove warmer. A sports glove that is too tight will most likely be perceived as colder.
If you are in between two unisex sizes we recommend that you normally choose the larger one. Our women's gloves have a more narrow fit than the unisex models. If you are a woman with unisex size 7 you should normally choose size 8 in our women's gloves. Junior size 7 and unisex size 7 is not the same size as they follow different size ranges.
SIZE RECOMMENDATIONS FOR DRESS GLOVES
Unlined dress gloves or dress gloves with thin lining as in cashmere, wool or silk should fit tight from the start as they usually stretch over time. Therefore we produce most of the dress gloves in full and half size to match more hands. If you are in between sizes we recommend that you choose a half size.
MITTENS ARE WARMER THAN 5-FINGER GLOVES
Go for a mitten if you often have cold hands. A mitten has a larger inner space that could bind more air which leads to a warmer glove. Another benefit with mittens is that the fingers warm each other. 3-finger gloves is a compromise between a mitten and a 5-finger glove.
WHY IS NOT ALL GLOVES WATERPROOF?
A glove's primary task is to keep the hands warm and dry. For many, a waterproof glove is in many cases the first choice no matter the activity. What many often miss is that during high activity the body temperature rises which causes your hands to sweat more. Sweaty hands require a glove that can carry away moisture fast to avoid getting cold hands. A glove with a waterproof insert can in some situations have the opposite effect, as the waterproof inserts reduces breathability. Gloves with waterproof inserts also dry slower.