Nano Kids' Apparel Size Chart

HOW TO MEASURE
Height: It is the total height of your child, from the top of his or her head to the ground.
Chest: It is the largest part of the chest underneath the arms.
Waist: It is the thinnest part of the waist.
Hips: It is the biggest part of the hips.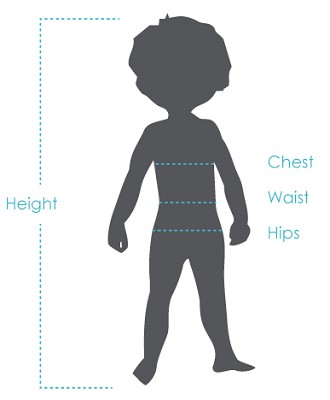 Nano Kids' Apparel Sizing Guide
*Measurements are in CENTIMETERS (cm)
| SIZE | Height (cm) | Chest (cm) | Waist (cm) | Hips (cm) |
| --- | --- | --- | --- | --- |
| 3 M | 62 | 43 | 46 | 47.5 |
| 6 M | 68 | 46 | 47.5 | 49 |
| 9 M | 74 | 48.5 | 49 | 50.5 |
| 12 M | 80 | 50 | 50.5 | 52 |
| 18 M | 86 | 52 | 52 | 53.5 |
| 24 M | 92 | 54 | 53 | 55 |
| 2 | 92 | 54 | 53 | 55 |
| 3 | 98 | 55.5 | 52.5 | 57.5 |
| 4 | 104 | 57 | 55 | 60 |
| 5 | 110 | 60 | 56 | 62 |
| 6 | 116 | 63 | 58 | 64 |
| 7 | 122 | 65 | 59 | 68 |
| 8 | 128 | 68 | 60 | 72 |
| 10 | 140 | 71 | 61 | 76 |
| 12 | 152 | 75 | 53 | 80 |
| 14 | 158 | 80 | 66 | 85 |