Use this chart to find out the right size of Nike shoes for your feet. Whether you're measuring for Nike kids shoes or Nike shoes for women or men, this Nike size chart will ensure you have the most comfortable pair for your feet.
For best results, wear the type of socks you'll wear with your shoes and measure your feet in the afternoon (feet typically swell during the day). Distribute your weight evenly before measuring.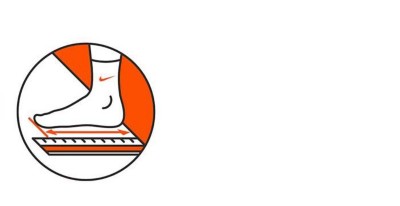 How to Measure:
Stand up straight on a hard surface with your heel against the wall
With a soft measuring tape or ruler, measure the heel-to-toe length
Be sure to measure the longest point of the toes!
Find your foot length on the charts below to see the correct size for your Nike shoes!
** Not sure which size is right for you? Check out our blog for shoe sizing tips!
Nike WOMEN'S and MEN'S Footwear Sizing Guide
| US Women's | US Men's | |
| --- | --- | --- |
| 4 | | |
| 4.5 | | |
| 5 | | |
| 5.5 | | |
| 6 | | |
| 6.5 | | |
| 7 | 5.5 | |
| 7.5 | 6 | |
| 8 | 6.5 | |
| 8.5 | 7 | |
| 9 | 7.5 | |
| 9.5 | 8 | |
| 10 | 8.5 | |
| 10.5 | 9 | |
| 11 | 9.5 | |
| 11.5 | 10 | |
| 12 | 10.5 | |
| 12.5 | 11 | |
| 13 | 11.5 | |
| | 12 | |
| | 12.5 | |
| | 13 | |
| | 13.5 | |
| | 14 | |
| | 15 | |
| | 16 | |
| | 17 | |
| | | |
Nike INFANTS' Footwear Sizing Guide: C = Child
| Foot Length (in.) | US Infants' |
| --- | --- |
| 3 3/16 | 0 C |
| 3 9/16 | 1 C |
| 3 15/16 | 2 C |
| 4 4/16 | 3 C |
| 4 9/16 | 4 C |
| 4 15/16 | 5 C |
| 5 4/16 | 6 C |
| 5 9/16 | 7 C |
| 5 15/16 | 8 C |
| 6 4/16 | 9 C |
| 6 9/16 | 10 C |
Nike TODDLERS' Footwear Sizing Guide: C = Child
| Foot Length (in.) | US Size |
| --- | --- |
| 6 12/16 | 10.5 C |
| 6 15/16 | 11 C |
| 7 1/16 | 11.5 C |
| 7 4/16 | 12 C |
| 7 7/16 | 12.5 C |
| 7 9/16 | 13 C |
| 7 12/16 | 13.5 C |
| | |
Nike KIDS' Footwear Sizing Guide: Y = Youth
| Foot Length (in.) | US Kids' Size |
| --- | --- |
| 7 15/16 | 1 Y |
| 8 1/16 | 1.5 Y |
| 8 4/16 | 2 Y |
| 8 7/16 | 2.5 Y |
| 8 9/16 | 3 Y |
| 8 12/16 | 3.5 Y |
| 8 13/16 | 4 Y |
| 8 15/16 | 4.5 Y |
| 9 2/16 | 5 Y |
| 9 4/16 | 5.5 Y |
| 9 6/16 | 6 Y |
| 9 9/16 | 6.5 Y |
| 9 11/16 | 7 Y |
| | |