Nike Running Gloves Size Chart

Keeping your hands warm while running outdoors during the winter is a must for comfort and safety. Make sure you find the right size of Nike running gloves for yourself by using the information and Nike running gloves size charts below. Then, shop Nike running gloves.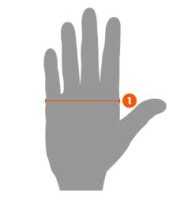 STEP 1: MEASURE YOURSELF
Nike running glove sizes are determined by hand circumference. To determine your running glove size, measure the circumference of your hand by wrapping a tape measure snug around your knuckles.
Now, refer to the appropriate chart below to determine your running glove size.
Nike MEN'S Running Gloves Sizing Information
| Size | Circumference of Knuckles (in.) |
| --- | --- |
| S | 7 - 8 |
| M | 8 - 8.5 |
| L | 8.5 - 9 |
| XL | 9 - 10 |
Nike WOMEN'S Running Gloves Sizing Information
| Size | Circumference of Knuckles (in.) |
| --- | --- |
| XS | 6 - 7 |
| S | 7 - 7.5 |
| M | 7.5 - 8 |
| L | 8 - 9 |
Nike ADULTS' Running Gloves Sizing Information
| Size | Circumference of Knuckles (in.) |
| --- | --- |
| XS / S | 8.5 - 9 |
| S / M | 9 - 9.5 |
| M / L | 9.5 - 10 |
| L / XL | 10 - 10.5 |
| XL / XXL | 10.5 - 11 |