Salomon Snowboard Boots Size Chart

HOW TO MEASURE:
What is Mondopoint Sizing? Snowboard and Ski boots use a measurement system called Mondopoint. The Mondopoint sizing system, or MONDO for short, is essentially the length of your foot in centimeters. We recommend measuring the length of your foot in centimeters for a more accurate idea of your Mondo size.
Mondopoint = CM
Place a sheet of paper on the floor and against a wall
Make sure you are wearing the same socks that you would normally wear with this type of shoe
Wearing these socks, stand on the sheet of paper with your foot perpendicular to the wall and your heel against the wall.
Then use a pen to draw a line just in front of your big toe. Repeat for both feet and take the longer distance to determine your size.
Using a ruler, measure the distance between the wall and the line you drew to find your size.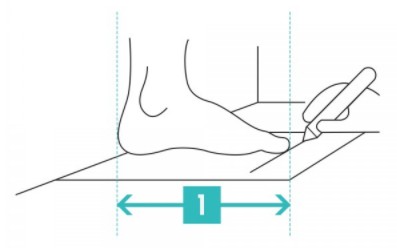 Salomon MEN'S SNOWBOARD BOOTS Sizing Guide
Men's
Order Size
EUR
Size
MONDO
Size (cm)
3.5
34.5
22
4
35.5
22.5
5
36.5
23
5.5
37
23.5
6
38
24
6.5
38.5
24.5
7
39
25
7.5
40
25.5
8
40.5
26
8.5
41.5
26.5
9
42
27
9.5
42.5
27.5
10
43
28
10.5
43.5
28.5
11
44
29
11.5
44.5
29.5
12
45.5
30
12.5
46
30.5
13
46.5
31
13.5
47
31.5
Salomon WOMEN'S SNOWBOARD BOOTS Sizing Guide
Women's
Order Size
EUR
Size
MONDO
Size (cm)
4
34.5
22
5
35.5
22.5
6
36.5
23
6.5
37
23.5
7
38
24
7.5
38.5
24.5
8
39
25
8.5
40
25.5
9
40.5
26
9.5
41.5
26.5
10
42
27
10.5
42.5
27.5
11
43
28
11.5
43.5
28.5
12
44
29
12.5
44.5
29.5
13
45.5
30
13.5
46
30.5
14
46.5
31
14.5
47
31.5
Salomon KIDS' SNOWBOARD BOOTS Sizing Guide
*M = Men's Equivalent
Kids'
Order Size
EUR
Size
MONDO
Size (cm)
10 K
27.5
17
11 K
29
18
13 K
32
20
2 M*
33.5
21
3.5 M*
34.5
22
4 M*
35.5
22.5
5 M*
36.5
23
5.5 M*
37
23.5
6 M*
38
24
6.5 M*
38.5
24.5
7 M*
39
25
7.5 M*
40
25.5