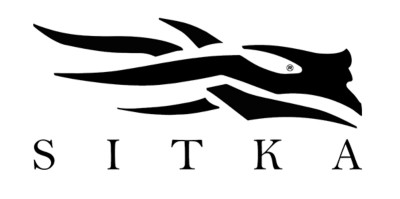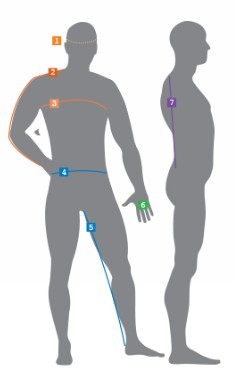 HOW TO TAKE YOUR MEASUREMENTS
1. Hats - Measure .5" above the ears around the forehead.
2. Sleeve Measure - Bend your elbow and put your hand on your hip. Measure from the center of the back of your neck, along the shoulder and down the elbow to the wrist bone.
3. Chest Size - Take measurement under armpits, around fullest part of chest and shoulder blades.
4. Waist Measurement Size - Measure around where the tape measure a bit loose or putting one finger between your body and the tape measure.
5. Inseam - In a standing position, measure from your crotch to where you want your pants to end. Breaking at the top of the shoe in front and just above the heel in the back.
6. Glove - With hand partially closed, measure over the knuckle and around the hand, excluding the thumb.
7. Torso Size - Measure from the location of your spine between the tops of your hipbone to the point where your shoulders slope into your neck and your C7 vertebra bumps out if you tip you head forward.
Sitka Men's GEAR Sizing Guide
*Body measurements are in Inches
Size
Chest
Sleeves
Waist
REG
Inseam
TALL
Inseam
S
36 - 38
33
28 - 30
31
32
M
39 - 41
34
31 - 33
31
33
L
42 - 46
35
34 - 37
32
34
XL
46 - 49
35.5
38 - 41
32
34
2XL
50 - 53
36
41 - 45
32
34
3XL
54 - 57
36.5
46 - 49
32
34
Sitka Men's MOUNTAIN / TIMBERLINE PANTS Sizing Guide
*Body measurements are in Inches
Size
Waist
REG
Inseam
TALL
Inseam
30
30.5
31.5
--
31
31.5
31.5
--
32
32.5
32
34
33
33.5
32.5
34
34
34.5
32.5
34
35
35.5
32.5
34
36
36.5
33
34.6
37
37.5
33
34.5
40
40.5
33.24
--
42
42.5
33.25
--
44
44.5
33.25
--
Sitka Men's ASCENT / 90% / EQUINOX / GRINDER PANT Sizing Guide
*Body measurements are in Inches
Size
Waist
REG
Inseam
TALL
Inseam
30
31.5
31
32
32
33.5
31
33
34
35.5
32
34
36
37.5
32
34
38
39.5
32
34
40
41.5
32
--
42
43.5
32
--
44
45.5
32
--
Sitka Men's GLOVES Sizing Guide
*Hand measurements are in Inches
| Size | Circumference | Length |
| --- | --- | --- |
| M | 8 - 8.5 | 7.5 - 8 |
| L | 9 - 9.5 | 8.5 - 9 |
| XL | 9.5 - 10 | 9 - 9.5 |
Sitka Men's GAITER Sizing Guide
*Measurements are in Inches
Size
Calf
Circumference
Boot
Circumference
Gaiter
Height
M / L
17.5
20.75
16.25
L / XL
18.5
22
17.25