Colorado Springs SCHEELS Giving Campaign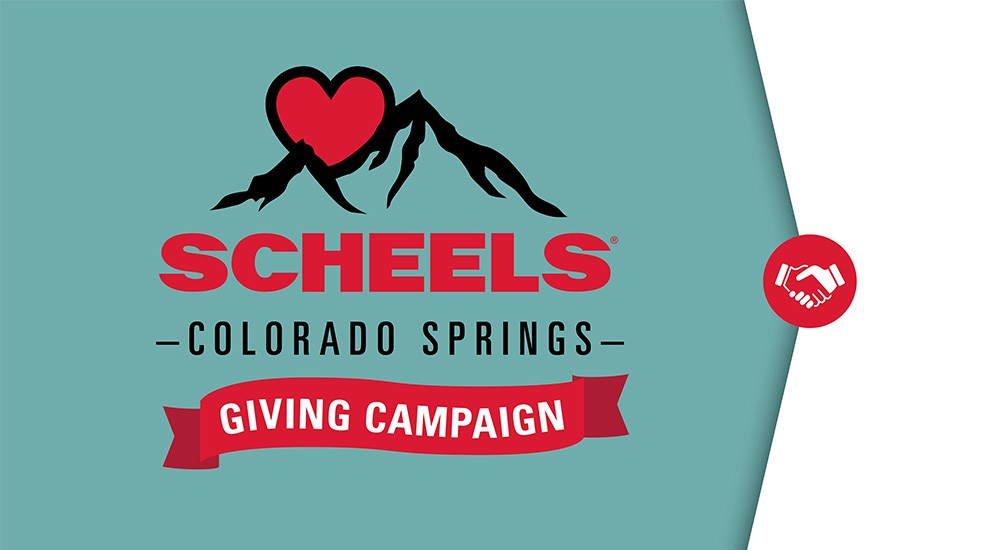 2022 Nominations Open Now!
Nominations for 2022 will run through December 4, 2022.
Colorado Gives Day is on December 6th and Colorado Springs SCHEELS will be donating $80,000 to local non-profit organizations within 50 miles of our store! We are asking for your help providing nominations for the organizations you would like to see receive a cash donation. Please submit your nominations by Sunday, December 4th. Winners must be serving the local community and be a registered 501(c)(3) organization. Winners will be announced on Tuesday, December 6th.
2021 Colorado Springs Giving Campaign
Our Colorado Springs SCHEELS associates are grateful to be a part of such a supportive community. We have enjoyed building relationships with the many organizations that were nominated this past year!
Thank you to everyone who submitted a nomination for our 2021 SCHEELS Giving Campaign. We received nominations for so many organizations that are doing wonderful work within our community—below are this year's winning organizations!
Our 2021 Giving Campaign Winners
Partnering with Local Organizations
The Colorado Springs SCHEELS team partners with over 100 non-profit organizations throughout the year to actively show support through financial sponsorship, volunteering, and special event sponsorship. These partnerships include local athletic programs for all ages, youth education programs, military groups, and human service groups. We also support environmental and wildlife partners to encourage outdoor activities in our local communities.

If you're inquiring about a donation or sponsorship, please contact communitycs@scheels.com for more information.