Johnstown Trek Shop & Services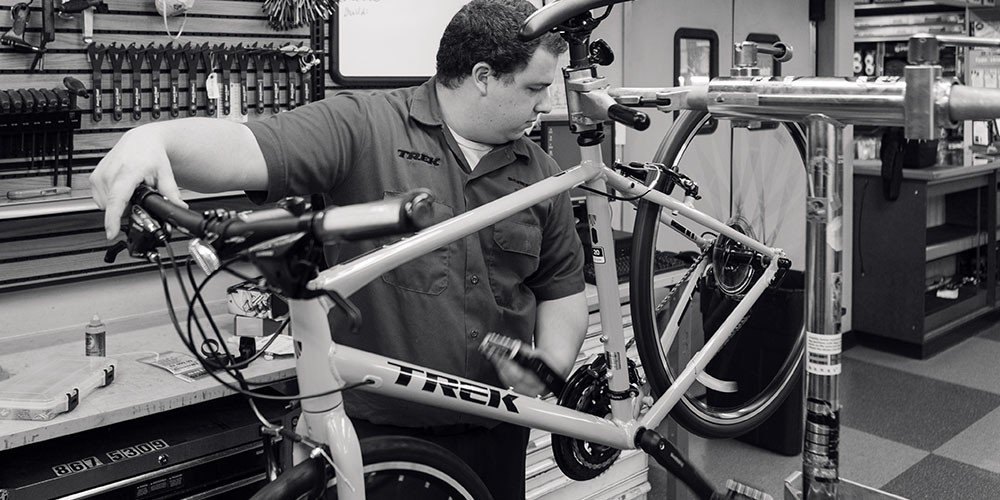 When you're looking for a new bike or your bike is in need of a tune-up, the Johnstown SCHEELS is your go-to biking headquarters. Our team of experts stay up-to-date on the latest industry knowledge in order to help you find the right bike and bike accessories so you can focus on your next adventure. Plus, our Johnstown SCHEELS offers a wide variety of bike services and repairs, including service on Trek bikes.
Our Johnstown SCHEELS bike experts receive hands-on training through SCHEELS Bike University in order to offer customers relevant and reliable information while shopping for a new bike. At the training, our experts learn about the ins-and-outs of different bike features from factory instructors and engineers.
Whether you're shopping for a commuter bike or a bike to ride the trails, our team of biking experts are here to help you find the bike that continues to pedal you to your next journey. Our bike selection is always stocked with the latest cutting-edge styles that the entire family will love, including industry-leading brands like Trek, Electra, FUJI, and many more. Whether you're looking for kids' bike or an adult bike, Johnstown SCHEELS carries a selection of bikes for men, women, and kids.
Looking for bike accessories? Johnstown SCHEELS offers a variety of bike accessories, including baskets and bags for added storage, bike helmets for safety, or bike racks for traveling.
It's important to keep your bike in quality condition with a regular tune-up. No matter what bike adjustment or repair you need, our team of bike technicians are happy to help. In order to provide quality customer service, our bike technicians attend a ten-day course at the Barnett Bicycle Institute in Colorado Springs, Colorado. During this time, our experts go through a variety of classroom training with hands-on, supervised instruction on bike assembly, maintenance, and repair.
For bike maintenance or repairs, bring your bike into our 800 square-foot shop. From tube and tire installation to a comprehensive tune-up, our bike technicians will work to get your bike working like new.
If you have any questions regarding current bike selection or service shop pricing, contact Johnstown SCHEELS to speak with an associate.
Johnstown Bike Shop Services & Pricing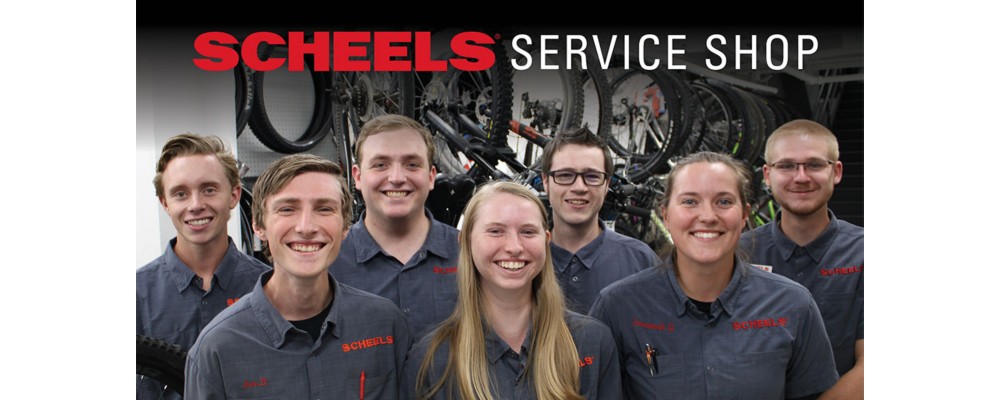 | Bike Service | Price | | Bike Service | Price |
| --- | --- | --- | --- | --- |
| Estimates | Free | | Basic Tune | $65.00 |
| Air Tubes / Lube Chain | Free | | Comprehensive Tune | $100.00 |
| | | | Pro Tune | $175.00 |
| Basic Bike Wash | $20.00 | | Complete Overhaul | $280.00 |
| Comprehensive Bike Wash | $40.00 | | *Trike/Tandem Surcharge | $20.00 |
| | | | | |
| Boxed Bike Assembly | $80.00 | | Chain Repair/Install | $15.00 |
| Box Bike | $80.00 | | Freewheel Replacement | $15.00 |
| Brake Adjustment | $15.00 | | Cassette Replacement | $15.00 |
| Brake Bleed | $25.00 | | Tap/Face Bottom Bracket | $30.00 |
| Derailleur Adjustment | $15.00 | | | |
| True Wheel | $20.00 | | Wrap Bars | $15.00 |
| Replace Cable and Housing | $40.00 | | Install Grips | $7.00 |
| Install Tire/Tube | $10.00 | | | |
| Rear Shock Service | $50.00 | | | |
| Fork Basic Service | $75.00 | | | |
| Dropper Post Install | $25.00 | | | |