Johnstown Camping & Hiking Shop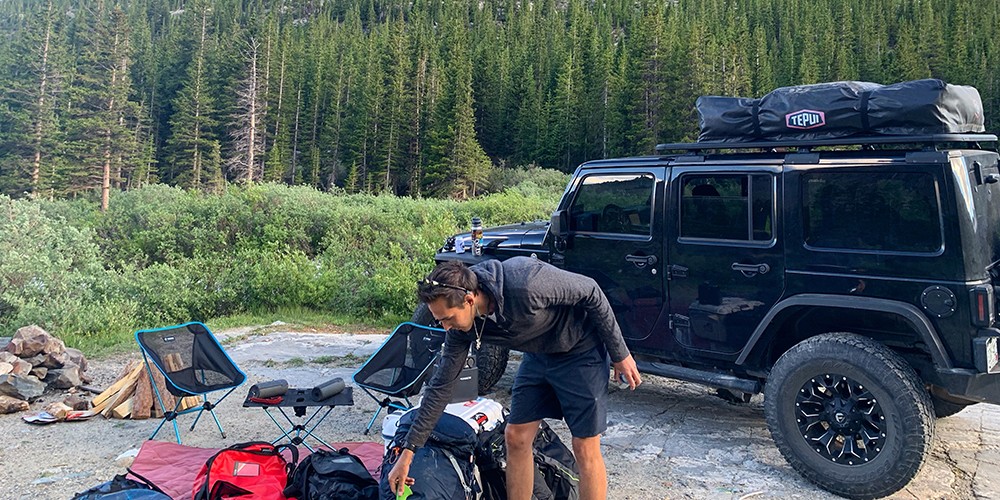 Northern Colorado offers many different areas to camp and hike. At Johnstown SCHEELS, we understand that camping and hiking are a big part of the Colorado lifestyle, so we make sure to stay stocked with the latest camping and hiking products. If you're looking for a camping store in Colorado, start by shopping the selection of camping and hiking supplies at Johnstown SCHEELS. Whether you're needing tents and sleeping bags or flashlights and first aid kits, we carry everything you need for a fun and safe camping or hiking experience!
When heading out for your next camping trip, make sure that all of your basic camping supplies are in top shape. At Johnstown SCHEELS, you'll find a large selection of outdoor camping gear such as tents, sleeping bags, chairs, coolers, and cooking supplies. With top camping brands like Coleman, Big Agnes, and The North Face, you'll stay protected from the elements with high-quality tents and sleeping bags, while a YETI cooler will be sure to keep your food both cold and safe from any critters. Plus, our camping shop includes a variety of different camping chairs and hammocks so you stay comfortable while enjoying nature.
When heading out on the trail for a day trip or backpacking through the mountains, make sure you have all the necessary supplies for hiking. Aside from a large camping selection, Johnstown SCHEELS carries a variety of backpacks, clothing, and accessories for your next hiking adventure. To comfortably carry all your hiking gear, find the right hiking backpack from top outdoor brands including Osprey, Cotopaxi, and Patagonia. The experts at Johnstown SCHEELS even offer pack fitting to help ensure you'll stay comfortable while out on the trail.
For comfort and protection, make sure to wear the right clothing and shoes for hiking. Our hiking shop features top outdoor brands like KUHL, Patagonia, and The North Face that offer the right styles of shirts and pants for hiking. Hiking boots are a key part of enjoying the trail too. From brands like KEEN, Merrell, and Danner, you'll find the right support and style within our hiking shop. Don't forget all the small accessories you need for hiking such as a Hydro Flask to keep your water cold all day or a flashlight to light the trail.
For your next outdoor adventure, whether camping or hiking, make sure you have all the gear and equipment you need to have fun and stay safe. For more information regarding our camping and hiking selection, contact Johnstown SCHEELS.