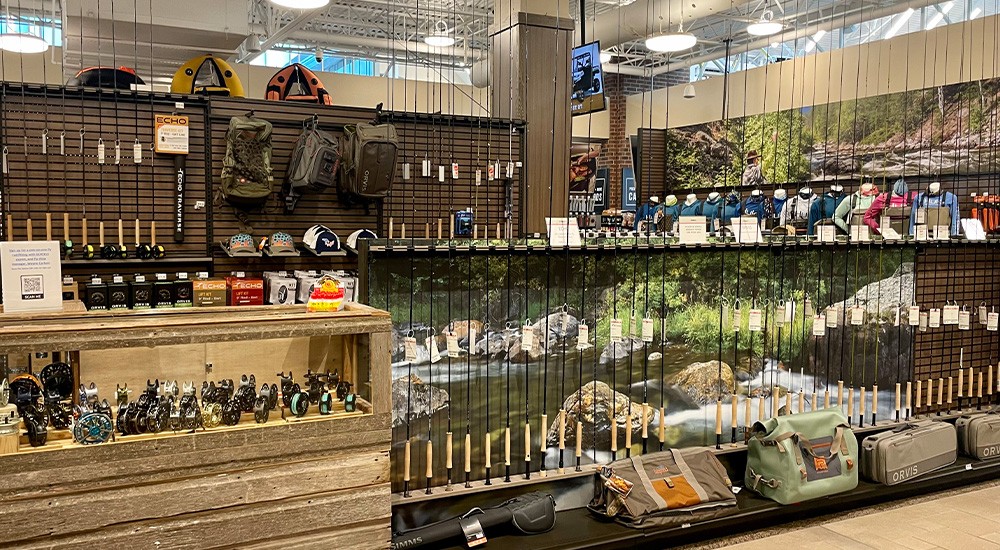 Whether you enjoy fly fishing, open water fishing, or ice fishing, the Johnstown Colorado SCHEELS is your one-stop destination for all your fishing essentials and gear. We carry a wide selection of quality fishing gear from many of the best brands in the fishing industry. Plus, our Johnstown SCHEELS fishing shops offer more than just reliable gear. Our SCHEELS fishing experts are happy to help answer any questions you have about fishing products, tips, or local fishing hotspots. Learn more about each of our fishing shops and the experts who are here to help!
Johnstown Fly Fishing Shop
If you're looking for a fly fishing shop near you, you'll want to start with our selection at Johnstown SCHEELS. Our fly fishing shop carries a wide variety of fly fishing clothing and gear all year round. Stay dry and more comfortable while wading through the streams or rivers with a quality pair of fishing waders or wading boots from brands like Simms and Compass 360. Additional fly fishing gear includes quality rods, reels, and combos as well as a variety of different tackle to match your fly fishing technique. Whether you're a beginner or an expert angler, make sure to stop into our fly fishing shop to speak with one of our fishing pros like John Kesler.
Johnstown Open Water Fishing Shop
With our open water fishing shop, you'll find everything you need whether you're fishing from shore or your boat. Our fishing shop offers a wide range of different tackle from leading brands like Berkley and Strike King. We also carry a variety of live bait to fit your technique or preferred species. If you're looking for fishing electronics like a fish finder, our selection offers a range of different price points and features to match your fishing needs. Plus, our knowledgeable fishing associates are available to help answer any of your fishing questions.
Johnstown Ice Fishing Shop
Did you know that ice fishing is becoming more popular around the Johnstown, Colorado area? During the winter season, our Johnstown SCHEELS fishing shop offers a selection of different ice fishing gear. From ice fishing lures to base layers to survive cold temperatures, you'll find just what you need to get started with ice fishing. Plus, our fishing experts like Colorado fishing guide Dan Shannon are here to help answer any ice fishing-related questions you may have.
With our shop-by-store feature, you're able to see the current selection in Johnstown's fishing shops. If you have any additional questions about the fishing selection, feel free to contact Johnstown SCHEELS to speak with a fishing expert.
Johnstown SCHEELS Field Fishing Experts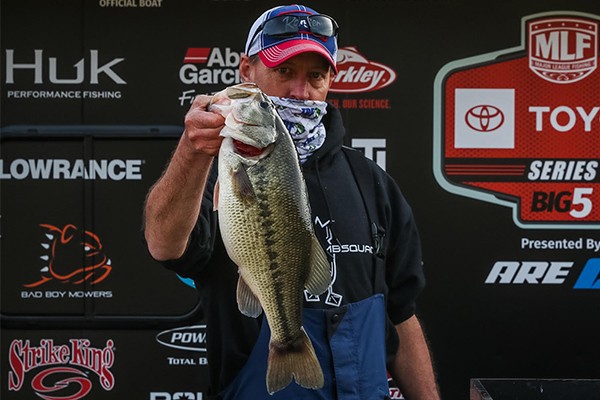 I was introduced to fishing at a very young age by my grandfather. Now at 53, it's a passion that has grown every year since. One of my proudest moments in life (and why I love fishing so much) is because you never stop learning about it. When I realized this, I started really advancing my fishing skills. My favorite species to fish are bass. I have (and currently) fish many tournament circuits nationwide with B.A.S.S., T.B.F., MLF, American Bass, and many other local tournament venues.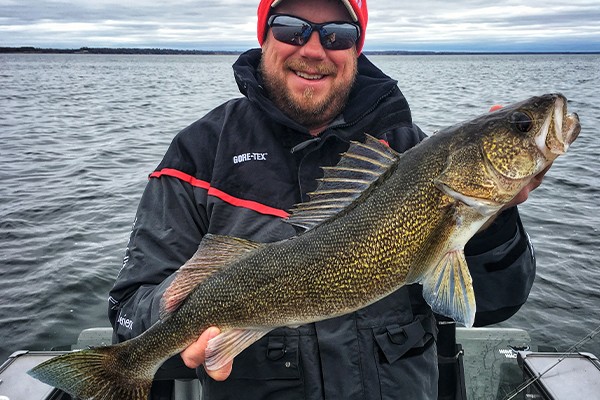 I grew up in Littleton and have been fishing the waters of Colorado for over 40 years. When I was 3 years old, my passion for fishing began while out with my dad fishing bluegills in Iowa farm ponds. At 16, I had the opportunity to work for In-Fisherman at Camp Fish in Walker, MN. The time spent working there instilled my enthusiasm for teaching others about fishing. Still to this day, one of my favorite things to do is help others learn how to fish or teach techniques to catch more fish. If you ever run into me on the water or in the store, feel free to come up and ask any fishing questions—I'll do my best to help!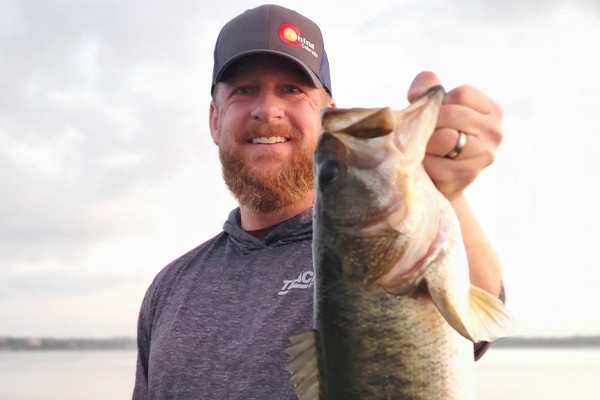 I've been fishing ever since I could walk! My grandfather, a World War II veteran and father of 9, introduced me to fishing and taught me so many life lessons through spending time with him. I fish all over northern Colorado but take the opportunity to fish tournaments and fish in the ocean any time I can. My best fishing tip is to match the hatch! You want to pick lures and presentations that match what fish are feeding on based around where you are fishing.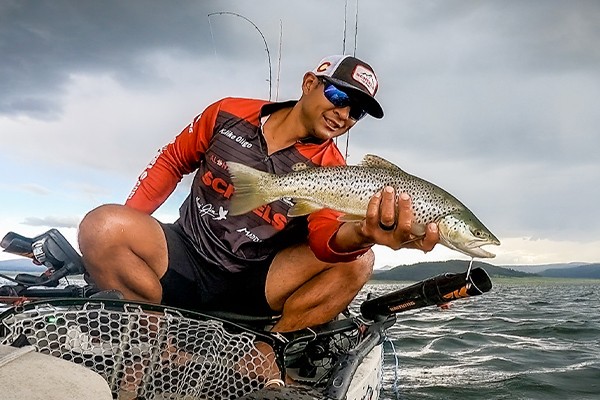 I have over 30 years of ocean fishing experience and 15 years of Rocky Mountain fishing experience. I really enjoy kayak fishing, and my proudest accomplishment is earning the title Colorado Multi-Species Angler of the Year. After retiring from Minor League baseball, I transitioned my interest and career to endurance sports, CrossFit, and fishing.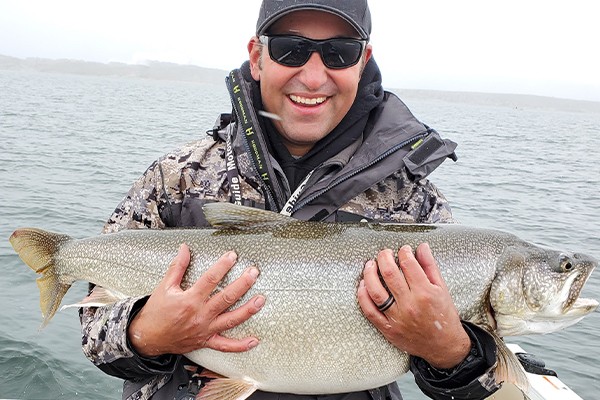 To me, fishing is the perfect combination of adventure, strategy, skill, and challenge. I've been fishing in Colorado and everywhere else I could since I was a young child growing up in the state. As a guide in the area, I fish both open water and ice fishing at Lake Granby, Grand Lake, and Williams Fork. I get asked frequently to share a fishing tip, and I always say that it's persistence—the mindset that you won't give up. With persistence, you'll be on the water in difficult conditions, staying positive when bites don't come easy, and always trying to find the right bait, color, jigging pattern, or trolling speed. This mindset is what will put fishing in the boat or on the ice.