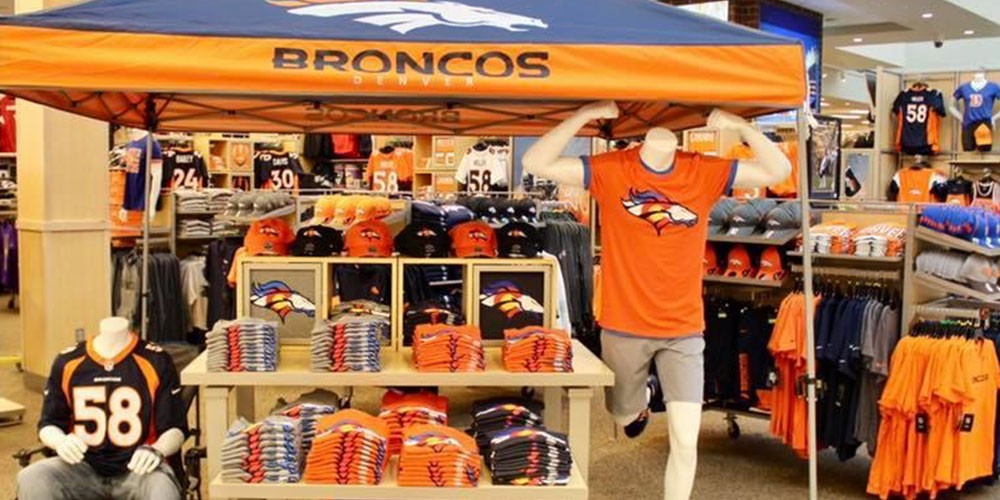 For passionate sports fans, choose SCHEELS as your go-to fan gear shop for your favorite team. At Johnstown, we have the largest Denver Broncos selection in the region so you can cheer on your favorite Bronco. Our Broncos Shop has an endless amount of products for you and the entire family to choose from, so you can take your Bronco pride to the next level. Whether you're shopping for the latest jersey or you're browsing our selection of accessories and souvenirs, Johnstown SCHEELS is your Broncos Headquarters.
Apparel
Show your Denver Broncos pride with top-quality sports apparel for men, women, and youth. With a variety of apparel options, including t-shirts, jerseys, sweatshirts, jackets, polos, and fleece, you'll be able to represent your favorite team any time of the year. Whether you're shopping for Bronco apparel for the next big game, viewing party or everyday attire, we have you covered with the gear you need to show your team pride.
Accessories
Discover your team pride with Denver Broncos accessories. Discover our large selection of cutting-edge Broncos accessories, including hats, bags, socks, and much more to add to your team pride selection. Whether you're shopping for a warm winter hat or a pair of socks, we have you covered with all of the accessories you need to support your favorite team in the NFL.
Souvenirs
Our souvenirs selection includes everything you need to take your Bronco pride everywhere with you. Browse our selection of Bronco souvenirs for your home, office, vehicle, and much more. Whether you're shopping for the perfect addition to your collection or the perfect gift for a proud Denver Broncos fan, we have the souvenirs you need to support your team.
Need help finding your favorite team gear? Contact Johnstown to speak with an expert.