Ski - Snowboard Shop & Services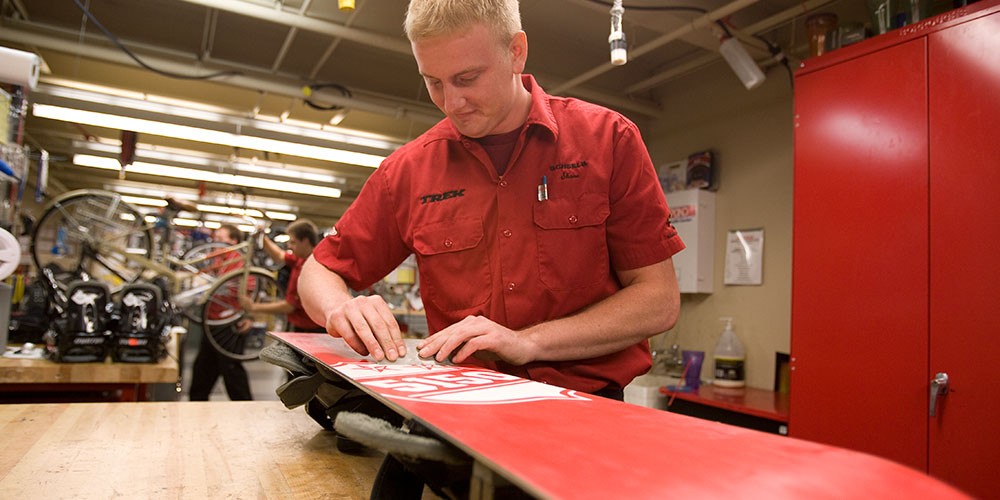 Before you hit the slopes, make sure your snowboard and skis are ready for the journey, so you can achieve that freestyle jump you've been working on with top-performing gear. At Johnstown, our team of certified technicians are equipped with expert knowledge and training to help you have the best riding conditions.
Skis and Snowboards
At your local Johnstown SCHEELS, each of our outdoor experts are not only trained by industry leaders to stay up-to-date with the latest skiing and snowboarding features, but their also avid about getting outdoors and helping you follow your passion. Whether you're cross country skiing, downhill skiing, or snowboarding across your favorite slopes, we have the latest gear designed with cutting-edge technology. With a variety of leading name-brands, including Burton, Oakley, Smith Optics, and many more, SCHEELS has all of the skiing and snowboarding gear you need.
Also, don't forget about the protective gear and accessories! At Johnstown, you'll discover a variety of skiing and snowboarding accessories, including snowshoes, goggles, helmets, bindings, and more accessories to keep you safe during your outdoor winter sports.
Services
With every goal set before you to tackle the tallest mountain or to ski down the steepest hill, your gear needs regular tune-ups with a team of experts you can rely on. At Johnstown, our service shop has a team of certified ski and snowboard technicians to help you keep your gear in high-quality shape.
Our certified technicians have expert training to make sure your skis are safe and in the best possible condition for the best skiing and snowboarding experience. Whether you need a simple tune-up, binding adjustments, or major base and edge repairs, our team is equipped to handle it all.
Also, you can bring in your snowboard with ultimate confidence knowing our team can tune-up and repair almost all models of snowboards. Johnstown's services include edge sharpening, base waxing, major base and edge repairs, and much more. Each of these services will help get your snowboard back to peak performance.
Need to rent a pair of skis or a snowboard? Contact Johnstown to check out our latest selection of rentals and prices.