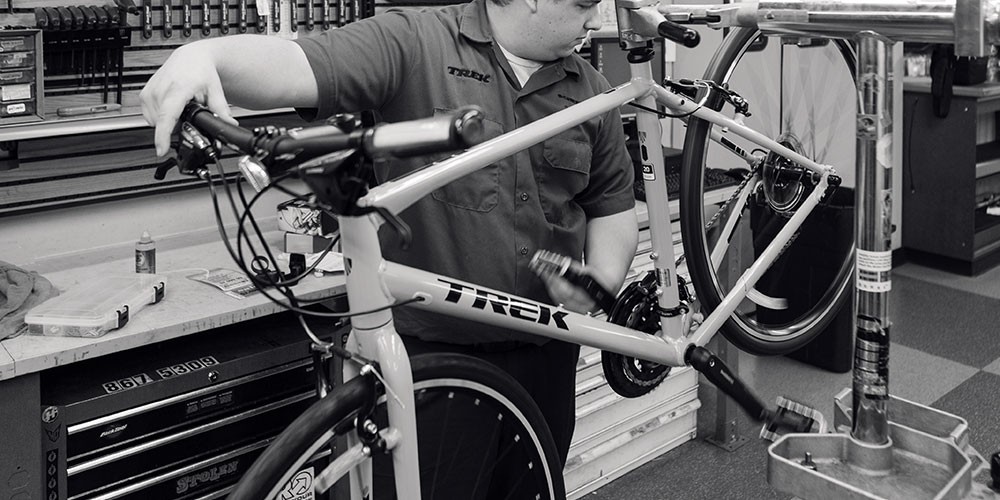 When you're on a quest for a new bike or your bike is in need of a tune-up, look no further than your local Johnstown SCHEELS as your go-to biking headquarters. Our team of experts have industry knowledge to help you find the right biking gear and services, so you can focus on pedaling forward.
Bikes
At Johnstown,each of our biking experts have received hands-on training through SCHEELS Bike University. During this time, our experts gained industry-knowledge with the help of factory instructors and engineers to understand the ins-and-outs of each bike feature.
Whether you're shopping for a commuter bike or a bike to ride along the trails, our team of biking experts are here to help you find the bike that continues to pedal you to your next journey. Our bike selection is always stocked with the latest cutting-edge styles that the entire family will love, including industry leading brands Trek, Electra, FUJI, and many more.
Need to accessorize your bike? Johnstown offers a variety of bike accessories, including baskets and bags to add a personal touch, chains and locks to secure your bike racks and attach your bike to your car, and other accessories to help you maintain the quality of your bike and accessories.
Services
With every mile you accomplish, it's essential to keep your bike in quality condition with a regular tune-up and repair. At Johnstown, you'll discover a team of Barnett-Certified Technicians with the highest level of service equipped with extensive hands-on training.
Our team of service shop experts attend a ten-day course at the Barnett Bicycle Institute in Colorado Springs, Colorado. During this time, our experts go through a variety of classroom training with hands-on, supervised instruction on bike assembly, maintenance, and repair.
Whether you need help with maintenance, repairs, or a FREE tune-up, Johnstown's team of experts is here to help in an 800 square-foot shop, so you can ride at ease knowing you can trust SCHEELS Technicians to handle your bike as if it was their own.
Need further help with bike purchasing or the service shop? Contact Johnstown to speak with a certified technician.