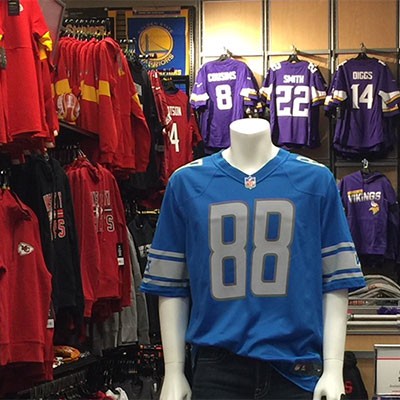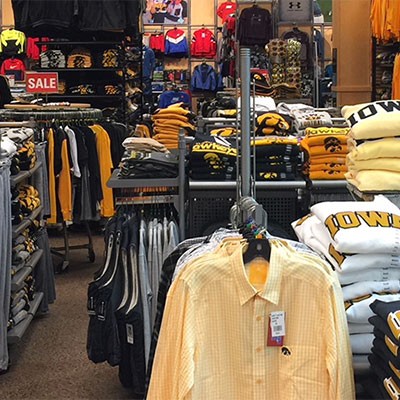 Those who live in the Des Moines area know there are plenty of different sports teams to root for during football, basketball, or baseball season. If you live in a house with divided team loyalties, make the Des Moines SCHEELS your one-stop-shop for all your fan apparel and gear. From college apparel for Iowa State to NFL apparel for the Vikings, you'll find the best selection for fan gear in the area. Whether you enjoy cheering on college or professional teams, our Des Moines SCHEELS stays stocks all year round with your favorite sports team.
With Des Moines SCHEELS central location within the Midwest, we know that our fans' loyalty can be divided, so we stock up on apparel and clothing for all regional teams. When the NFL football season starts in the fall, you can expect to see t-shirts, sweatshirts, hats, and more in your favorite team's colors. We cover all our bases with fan apparel and clothing for the Chicago Bears, Minnesota Vikings, Kansas City Chiefs, and Green Bay Packers.
College Team Apparel & Clothing
For those who enjoy cheering on college teams in football, basketball, or other sports, shop the variety of teams at the Des Moines SCHEELS. Here you'll find team apparel and gear for the Iowa Hawkeyes, UNI Panthers, or Iowa State Cyclones. Whether you are looking for an Iowa State sweatshirt to wear while tailgating or a Cyclones t-shirt to wear to a basketball game, you'll find what you want to cheer your favorite college team to victory. Perhaps you're not looking for Iowa State apparel, but rather you're a Panther or Hawkeyes fan. We make sure to represent both college teams with a selection of UNI Panthers and Iowa Hawkeyes t-shirts, sweatshirts, hats, and more. No matter your favorite local college team, you'll be able to find the best college apparel all year at the Des Moines SCHEELS Fan Shop.
Minor League Team Apparel & Clothing
The Des Moines SCHEELS doesn't forget about the minor league sports either. Whether you are a hockey fan cheering on the Iowa Wild or a baseball fan cheering on the Iowa Cubs, we carry your fan apparel and clothing too. Also, find your basketball fan gear for the Iowa Wolves at the Des Moines SCHEELS.
With so many sports teams in the area, SCHEELS Des Moines provides a wide variety of different fan apparel and gear. If you have questions about other teams, sports, or current apparel selection, contact your Des Moines SCHEELS to speak with an expert.