Des Moines Service & Repair Shop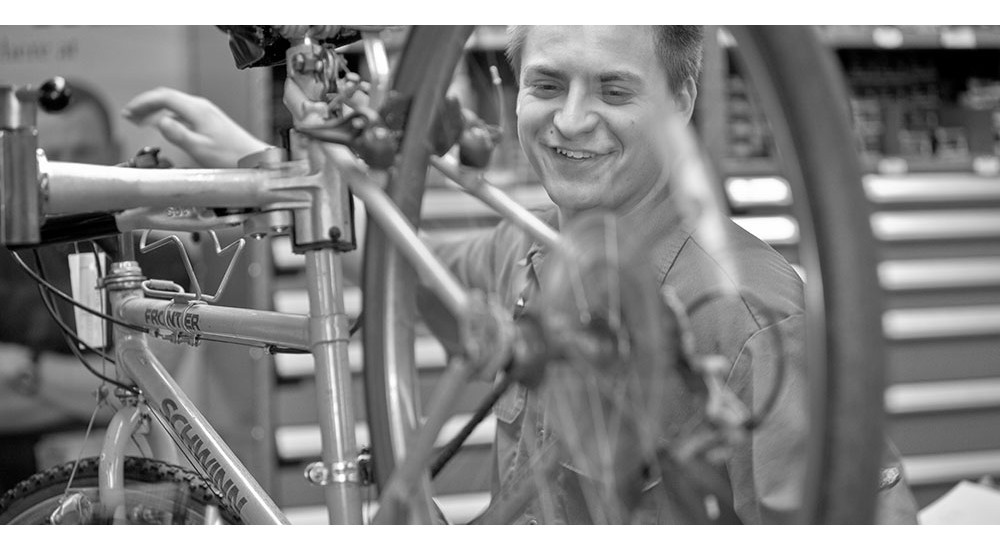 If you're looking for an equipment service and repair shop in the Des Moines area, start with your Des Moines SCHEELS. Our SCHEELS store features a full service and repair shop to keep all your recreational equipment such as bikes, inline skates, skis and snowboards, and much more in working condition. Whether you enjoy biking the local trails or skilling at a nearby resort, our SCHEELS service and repair shop technicians are available for routine maintenance and repairs on a wide variety of different recreational equipment. Stay active during any season by keeping your outdoor equipment in the best condition.
When enjoying a cycling race or commuting to work, you want to make sure your bike is operating smoothly. Our Barnett-Certified technicians offer repair estimates, standard or comprehensive tune-ups, bike assembly, and so much more. Our friendly technicians are also trained to replace your tubes and tires or even install your new bike rack. When the weather warms up, make sure to check out the bike repair shop at the Des Moines SCHEELS for routine maintenance each year.
Some of our most popular bike services and repairs include:
Bike build

Safety check

Standard tune

Comprehensive tune

Suspension fork service

Air tubes and lube chain

E-bike updates and diagnostics
For pricing and a complete list of our bike services and repairs, call the Des Moines SCHEELS to speak with a service shop associate.
Ski & Snowboard Tuning & Repairs
Before winter weather heads our way, dig out your alpine skis, cross-country skis, or snowboard and bring them to the Des Moines SCHEELS service shop for tune-ups or waxing. If your winter sports equipment is in need of some additional care, our SCHEELS service shop technicians are trained in adjusting, mounting, and remounting your ski and snowboard bindings too.
Our Des Moines service and repair shop offers a wide range of other services too. If you enjoy figure skating or playing hockey, you can bring your ice skates in for a sharpening. For baseball and softball players, our experts are able to condition your glove, replace glove laces, and even re-grip your bat. With so many different service and repair options, feel free to contact the Des Moines SCHEELS for a full list of service and pricing.
Perhaps you're noticing your recreational equipment is in need of replacing. The associates at Des Moines SCHEELS are happy to help offer recommendations and suggestions or you can browse the current Des Moines SCHEELS selection on SCHEELS.com. Be sure to set your store for accurate inventory levels!
If you have questions regarding any other services, repairs, or pricing, please contact the Des Moines SCHEELS store to speak with an expert.