Des Moines Store Attractions
When you are looking for something fun to do in the Des Moines area, start by planning your shopping experience at the Des Moines SCHEELS. Our sporting goods store offers so much more than a great shopping experience. From fun activities like arcade games to delicious sweets, the Des Moines SCHEELS offers entertainment the whole family can enjoy! Plus, you can get your family excited for their day at SCHEELS by purchasing them a SCHEELS e-gift card today!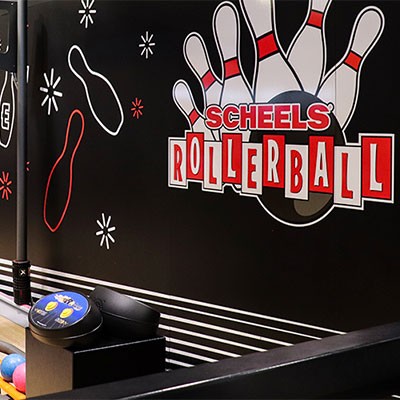 With rollerball, you'll "strike" up some fun with friends in order to fill your "spare" time. Rollerball is just like bowling except in a mini style. The Des Moines SCHEELS features two lanes so you can have some friendly competition between family and friends.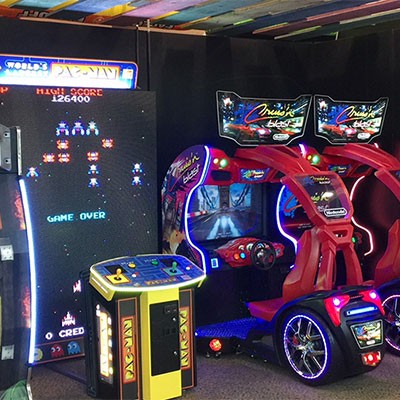 While others are shopping, you can pass the time enjoying a variety of arcade games. Nothing says blast from the past like Pac-Man. This large maze arcade game will keep you on your toes as you gobble up the little dots all while staying away from the ghosts! Perhaps you would like to go back to the prehistoric ages with our realistic Jurassic Park arcade game, or if you have the need for speed, enjoy the race car driving arcade game. No matter your interests we have a fun arcade game for you!
Do you have a sweet tooth? Don't forget to stop by the Fuzziwig's Candy Factory to pick up a tasty treat. Choose from the most unique candies or remember the past with nostalgic candy like saltwater taffy. Fuzziwig's Candy Factory also stocks the latest and greatest sugar trends. You're bound to find something to enjoy.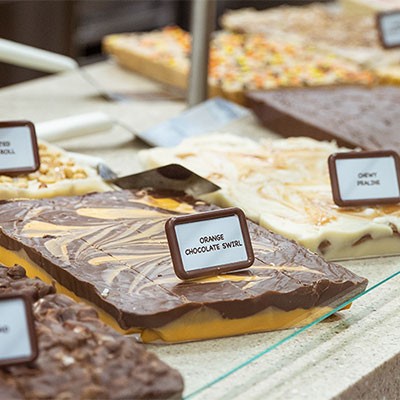 When you are looking for a place to relax your feet after some serious shopping and entertainment, enjoy Ginna's Café. Our friendly baristas are ready to make your favorite specialty coffee drink for a caffeine fix. If you're not a coffee lover, our Ginna's Café offers a variety of other drink choices too! Add to your down time by trying a few different flavors of our delicious homemade fudge.
Wondering what else the Des Moines SCHEELS has to offer? Feel free to call your store to speak with an associate.