Eden Prairie Bike & Service Shop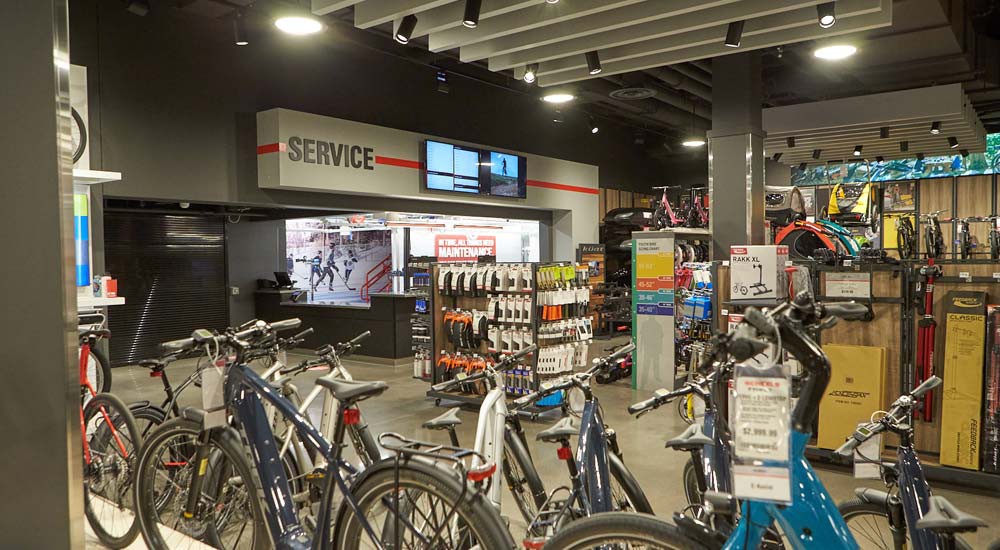 No matter your cycling style, you'll find what you need at the SCHEELS Eden Prairie Bike Shop. Whether you need service on an existing bike or you're looking for a new bike to take out on one of the many bike trails in the Eden Prairie area, our Eden Prairie SCHEELS Bike Experts will help you find what you need. The selection isn't limited to bikes—you can even find cycling clothing, cycling shoes, and bike accessories. Eden Prairie SCHEELS is so passionate about cycling that they've donated permanent bike repair stations which can be found on Purgatory Creek Trail in Eden Prairie and in McKinley Park in Chaska.
Your bike will always be in good hands with our Eden Prairie SCHEELS bike technicians. Our bike repair technicians are as passionate about cycling as you are. Every technician receives SCHEELS-specific training at the Barnett Bicycle Institute in Colorado Springs, CO. This intensive course gives each of our Eden Prairie bike technicians hands-on training and classroom instruction so they become experts in bike assembly, bike repair, and bike maintenance. When you need a professional to treat your bike like it's their own, choose the Eden Prairie SCHEELS Bike Service Shop for all your bike repair and service needs.
Whether you cycle indoors, ride on the bike trails recreationally, or race with your bike, Eden Prairie SCHEELS will have everything you need from bikes and bike accessories to cycling footwear and clothing. With brands like Trek, Bontrager, and Electra, you know you're always getting the best bikes and cycling gear. Stop by the Eden Prairie SCHEELS bike shop and check out the selection of Trek bikes, Bontrager accessories, bike racks, and so much more!
If you have questions about our Eden Prairie SCHEELS Bike and Service Shop, contact one of our experts at Eden Prairie SCHEELS for more information.