Mankato Full Service Shop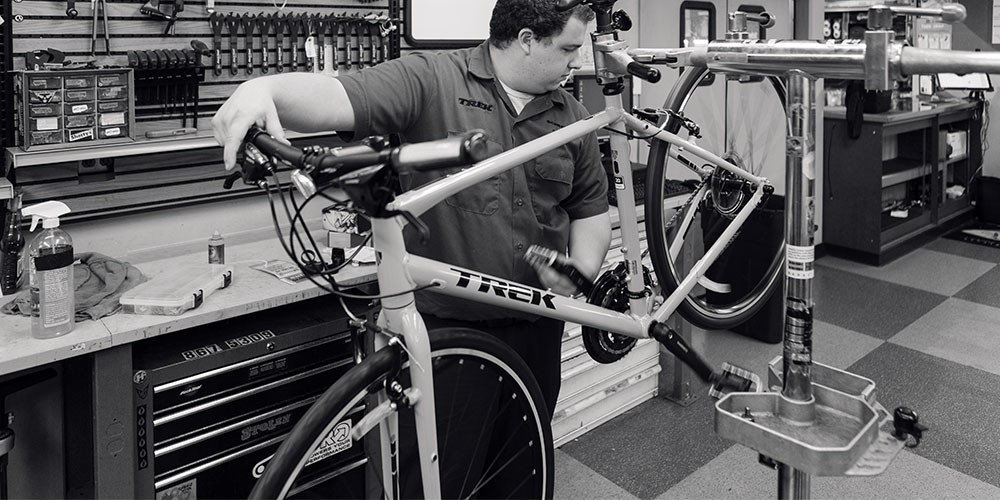 Looking for a place in the Mankato area to tune-up your outdoor equipment? The Mankato SCHEELS has a full service and repair shop right in the store. Our technicians are trained to work on a variety of different outdoor equipment including bikes, Minn Kota trolling motors, downhill skis, and more! Bring your outdoor equipment into our Mankato SCHEELS service shop in order to make sure everything is tuned-up and in working condition.
From minor to major bike repairs and services, our trained technicians are ready to help get your bike back on the road or trails. Our SCHEELS technicians receive hands-on, quality training each year in order to offer knowledgeable and reliable service to our customers. Whether you're needing your chain lubed and air in your tires or an e-bike update, our technicians have the tools and skills to provide you with service estimates and quality repairs. Plus, we're a certified Trek dealer, so we can handle your Trek bike needs!
Some of our most popular bike services and repairs include:
Bike build

Safety check

Standard tune

Rear shock service

Comprehensive tune

Suspension fork service
For pricing and a complete list of our bike services, contact an associate at the Mankato SCHEELS today!
Minn Kota Motor Service & Repair
When you are itching to hit the open water in the spring, make sure your Minn Kota motor is ready to go! One of our unique services is that the Mankato SCHEELS is a Minn Kota authorized service center, meaning our skilled technicians service any Minn Kota motor whether it's within warranty or out of warranty. With regular maintenance, you'll be able to keep your Minn Kota motor in working condition for years to come.
Additional Services & Repairs
Our services and repairs don't just end with bikes and fishing, we provide a wide range of different services for our customers. If you enjoy winter sports during the cold weather months, bring your downhill skis, cross-country skis, or snowboard in for tuning, waxing, edge, sharpening, and binding adjustments and repairs. For those who enjoy team sports, we provide baseball and softball glove lace replacement, bat regrip, and golf grip installation.
No matter your passion, make sure your outdoor equipment is ready for the upcoming season by bringing it to the Mankato SCHEELS service and repair shop. If you have questions regarding pricing or other service options, please call our experts at the Mankato SCHEELS.