Lincoln Attractions and Entertainment
When you step through the doors of your Lincoln, Nebraska SCHEELS, be prepared for a shopping experience unlike any other. From the Ferris wheel and arcade to delicious treats from Ginna's Cafe and Fuzziwig's Candy Shop, we have attractions for everyone in the family to enjoy. Don't forget to take a family photo in front of the safari Jeep and grizzly bear, or show your Cornhusker pride with a special photo opportunity within our store. When you're looking for things to do in Lincoln, Nebraska, SCHEELS is the ultimate stop.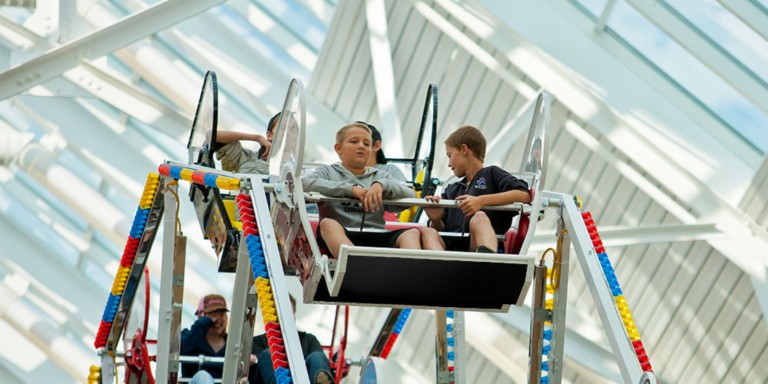 Standing 65-feet tall with 16 cars, our Ferris wheel is the perfect way to start your SCHEELS adventure. For just $1.00, the Ferris wheel gives a bird's-eye-view of everything our Lincoln SCHEELS has to offer from clothes and shoes to interactive games that will keep you occupied for hours. Please note, Ferris wheel riders must be 48-inches tall to ride alone and 36-inches tall to ride with an adult.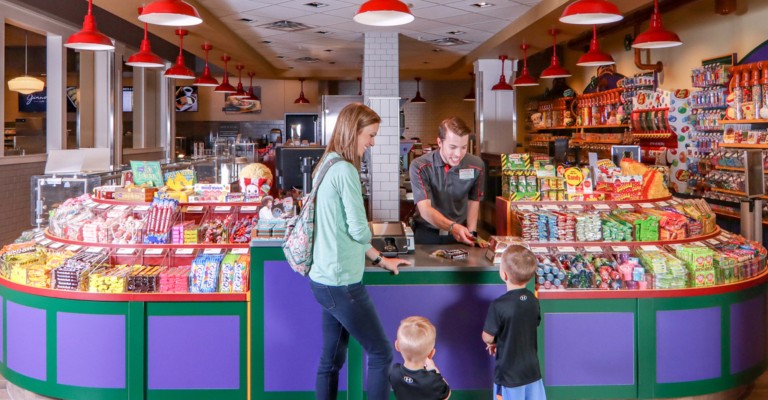 Make your day a little sweeter with a treat at Fuzziwig's Candy Factory. Our candy shop associates are directly involved in creating each type of handmade candy from gourmet caramel apples to hand-dipped chocolates and old-fashioned candies. Our candy shop carries over 100 different options including customer-favorite Dippin' Dots and gummies. Make sure to stop into our Fuzziwig's Candy Factory for an extra-special treat.
Arcade & Interactive Games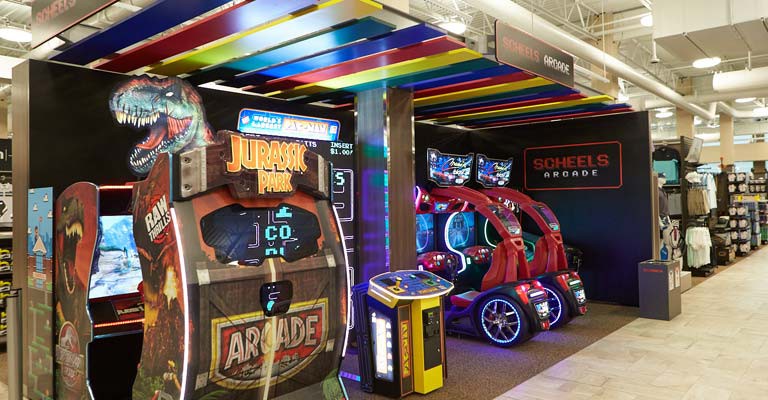 When you or the kids need a change of pace, stop by the arcade and play some of your favorite arcade games like Pac-Man, Big Buck Hunter, and more. You can even try your hand at the Shooting Gallery or bowl a few rounds at the Rollerball lanes. The arcade and interactive games at Lincoln SCHEELS are sure to be a hit with the whole family.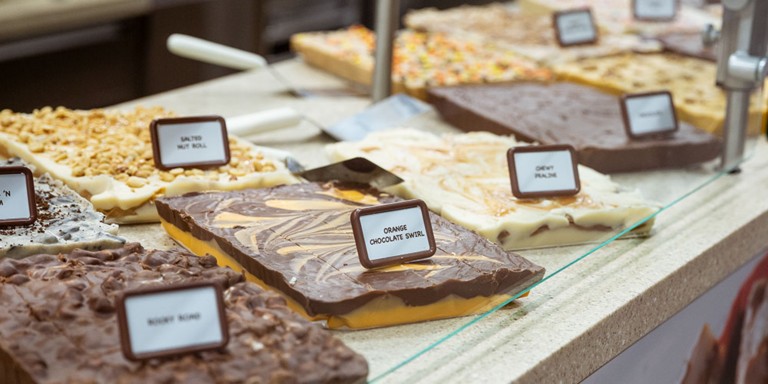 Our cafe and coffee shop has just what you need to satisfy your sweet tooth or grumbling stomach. Try a piece of our homemade fudge and pair it with SCHEELS-exclusive coffee for an afternoon pick-me-up. If you're stopping over the lunch hour, make sure to try our customer-favorite Reuben sandwich or a warm bowl of soup. Ginna's Cafe has comfort food and health-conscious choices to satisfy a variety of food preferences.
Our 16,000-foot saltwater aquarium will have you gazing in awe at its vibrant colors, massive size, and beautiful fish. The aquarium is maintained by scuba divers who feed the fish daily and make sure their living space is clean. You won't want to miss this attraction during your visit, and you might even catch a diver in action!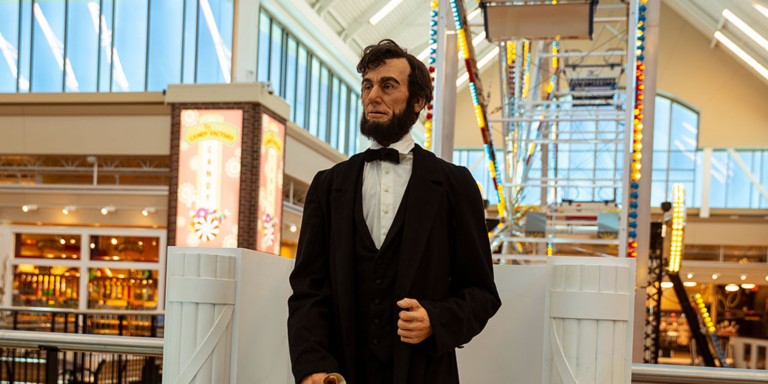 Right at your local Lincoln SCHEELS, you can learn more about the history of America with the Lincoln SCHEELS Walk of Presidents. Take a tour of life-sized presidents from the past and gain insight into how they built the foundation for the United States. The carefully designed costumes and detail will make you feel as though you're seeing them in real-life.
If you have questions about our Lincoln SCHEELS Attractions & Entertainment, contact one of our experts at Lincoln SCHEELS for more information. And if you can't make into the store today, you can still purchase a SCHEELS gift card for yourself or a loved one for future use. Plus, shop our widest selection of clothing, footwear, gear, and more online now!