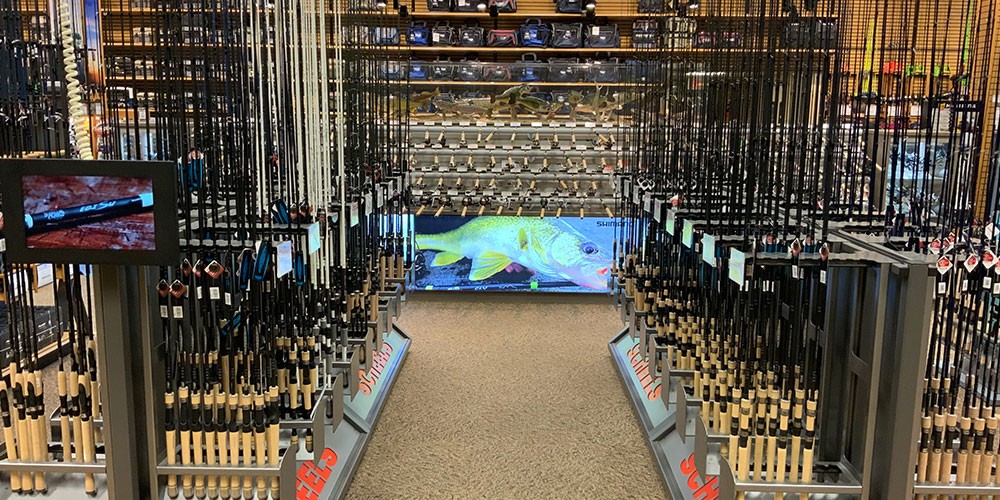 Whether you're an avid angler or just starting out, the Fargo SCHEELS has the best and biggest selection of fishing gear in the area. From open water fishing to ice fishing, we have everything you need to lure the catch of the day. We have so much traffic coming to our fishing shop that we host an Annual Ice Fest in November and a Fish Fest in the spring so you can try out the latest and greatest equipment for both ice fishing and open water fishing. The Fargo SCHEELS is also a proud sponsor of FM Walleyes Unlimited and the Young Angler Association.
Open Water Fishing Gear
When fishing opener comes around in the spring, you want to make sure you're equipped with the best gear around to help you reel in the big ones. Whether it's a new fishing rod and reel or even hooks and lures, the Fargo SCHEELS has one of the best selections around. Browse fish finders from brands like Garmin, Humminbird, and Lowrance or upgrade your fishing reel to something like the Abu Garcia black max. With top brands like Rapala, Berkley, Penn, Pflueger, Shimano, and more, you can make the Fargo SCHEELS the place to go for all your fishing needs. Don't forget to get your live bait here as well! We have everything from wax worms and nightcrawlers to minnows and more. Before you head into the store, check out the selection of fishing gear available at Fargo SCHEELS!
Ice Fishing Gear
As the temperatures start to drop and the water freezes over, you know ice fishing season is near. Stop by the Fargo SCHEELS for all your ice fishing gear to ensure a successful season ahead. Whether you're looking for a new ice shelter, auger, or fish finder, we have everything from ice fishing essentials to small accessories so you can spend more time on the ice. Make sure to stop by the Fargo SCHEELS for expert-approved brands you can trust like Clam, Otter, Eskimo, and more. Make your trip to the store even faster and browse the selection of ice fishing gear available for pickup at the Fargo SCHEELS!
If you have any questions about our fishing shop, please contact Fargo SCHEELS for more information.