Outdoor Equipment & Yard Care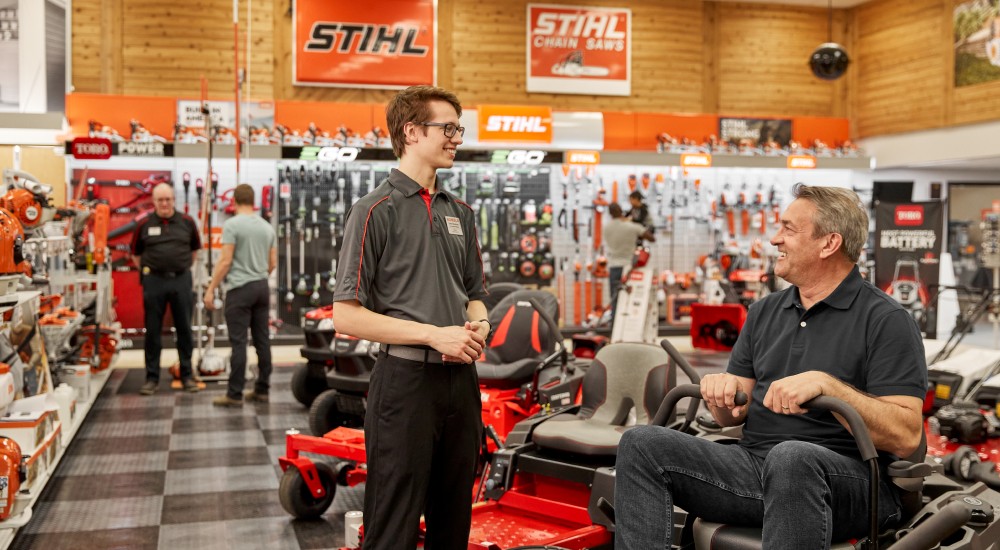 In the Fargo-Moorhead area, you need to have a wide variety of outdoor and lawn equipment on hand in order to tackle all the different seasons. Whether it's spring or winter, North Dakota weather is always unpredictable, so make sure you have the right tools to tackle unruly grass or large amounts of snowfall. SCHEELS Home & Hardware is your outdoor equipment store thanks to our wide selection of outdoor power equipment, tools, and products to help you take care of your yard no matter the season or weather. Plus, if you need any assistance in picking the right outdoor equipment for the job, our friendly associates are trained and knowledgeable about current products and new technologies.
Fall & Winter Outdoor Equipment
When cooler weather moves into the Fargo-Moorhead area, be ready for raking leaves and blowing snow with quality outdoor equipment. From leaf blowers to rakes, you'll find all the must-have equipment to clean up the fall leaves. Once the snow starts falling, be ready for the challenge with a new snow blower or snow shovel. With top brands like Toro, you'll find the right snow blower for clearing your sidewalks and driveway. From light, fluffy snow to heavy, wet snow, these Toro snow blowers are ready to power through any amount of snowfall. Make sure to be prepared for the winter weather with a snow shovel too. Whether you need one to keep in your car or garage, you'll find durable snow shovels to handle tough winter weather. For those dealing with super icy surfaces, SCHEELS Home & Hardware stays stocked with ice choppers and ice melt to make sure your surfaces stay safe and ice-free. Plus, you can pick up an ice scraper for your car. In the Fargo-Moorhead area, it's important to be well-prepared for any winter weather that may come your way.
Spring & Summer Outdoor Equipment
Caring for your lawn during the spring and summer months calls for quality outdoor power equipment like leaf blowers, chainsaws, string trimmers, lawn mowers, and more. Whether you're taking care of your personal yard or maintaining commercial properties, SCHEELS Home & Hardware offers a large selection of power lawn equipment to make the job easier and faster. From push lawn mowers to riding lawn mowers, we have the best lawn mowers to fit any size yard. For convenience, our selection of outdoor power equipment includes cordless hand tools from leading brands like Ego. If you're looking to do lawn care and maintenance on your own, make sure you have the best outdoor lawn equipment from leading brands like Toro, Sthil, and Dewalt.
To make your lawn the envy of the neighborhood, check out SCHEELS Home & Hardware's selection of lawn care products including fertilizer, weed care, sprinklers, and garden hoses. If you want to landscape around your house, our hardware store carries different styles of mulch and landscaping fabric. Our selection of outdoor gardening gear includes fences and tomato cages to keep your vegetables protected from bunnies. To make your outdoor work easier, check out the variety of gardening tools and gardening gloves too.
No matter the season, SCHEELS Home & Hardware offers a wide variety of different outdoor equipment and products!