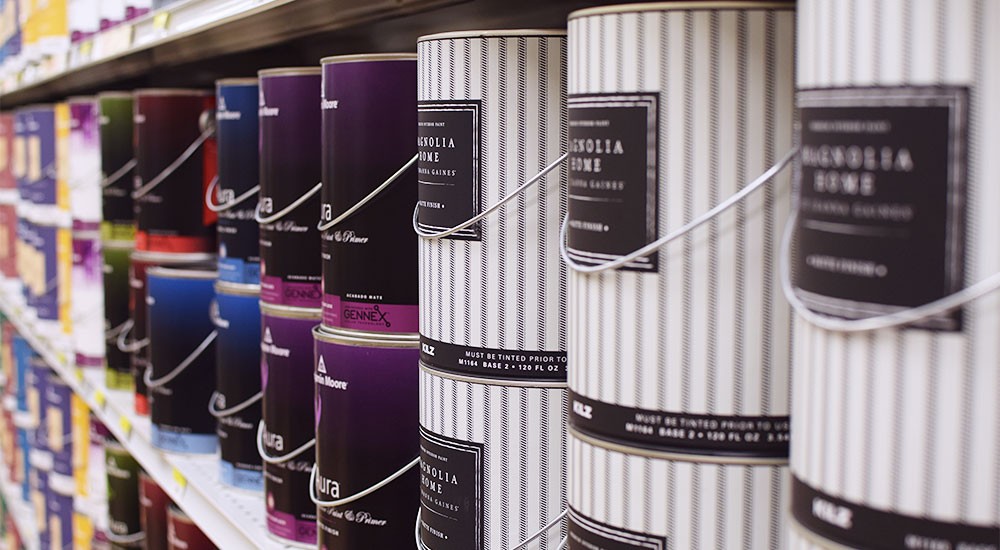 If you're looking to repaint a room or make improvements to your home, check out the wide variety of paint and hardware supplies at SCHEELS Home & Hardware. Whether you're looking to make changes to your kitchen, bathroom, living room, or bedroom, our selection of hardware supplies has everything you need to complete your DIY project. If you're a little unsure of where to start with your home improvement project, our friendly, knowledgeable associates are willing to point you in the right direction.
Update the look and feel of a room in your home with new paint from premium paint brands. With high-quality paint, you'll enjoy the best coverage, color, and depth, making it look like the job was done by a professional. You'll find the right color for your space thanks to the wide range of paint color options available, and if you don't find the perfect color, we also offer paint matching. SCHEELS Home & Hardware carries a wide selection of premium paint brands including Benjamin Moore, Magnolia Home Paint, and Clark+Kensington® Paint.
Before beginning your painting project, it's important to make sure you have all the right painting tools including paint brushes, paint rollers, painter's tape, and painting trays or liners. Our large assortment of painting supplies is sure to have everything you need for starting and finishing your painting project.
If your household fixtures are in need of some repair, check out tools and supplies for plumbing, electrical, and more. From fasteners including nails, bolts, or washers to power tools like drills and saws, you'll find everything you need to keep your home in perfect condition. After a paint or repair job, make sure you have the right cleaning products on hand to clean up. Whether you're in need of cleaning supplies like sponges, spray bottles, and brooms or need to replenish your stock of everyday supplies like bleach, all purpose cleaners, and more, SCHEELS Home & Hardware offers just what you're looking for. For all your paint hardware needs in Fargo, ND, start with the experts and wide selection at SCHEELS Home & Hardware.