Service Shop at Sioux Falls SCHEELS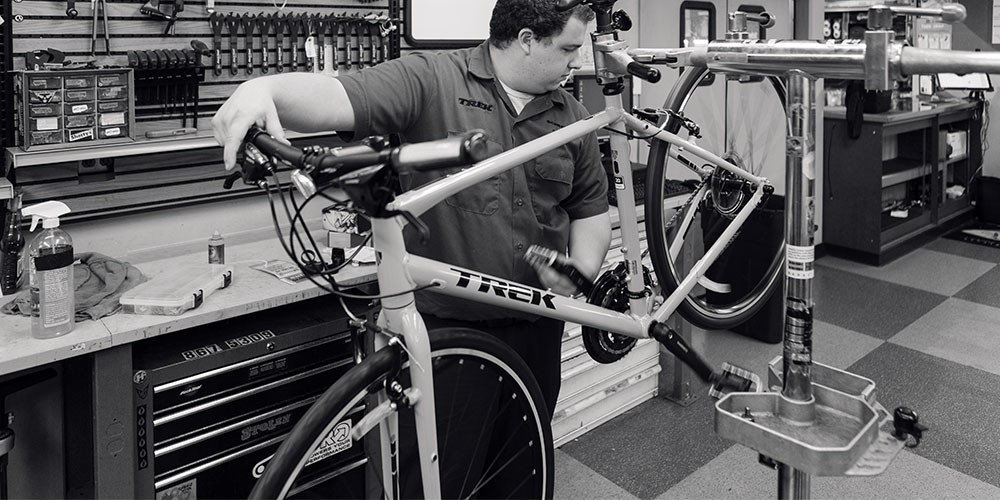 Visit our Sioux Falls Service Shop to keep your gear in top condition. The Sioux Falls SCHEELS Service Shop doubles as a bike shop, snowboard and ski shop, and more. We have some of the best technicians in the industry to keep your bike, snowboard, or bow, functioning at its best. Don't let your equipment hold you back from your passion. Bring it to our SCHEELS technicians and leave with gear that works like new.
Visit our TREK-certified bike shop for all your bike repairs and tune-ups, no matter the brand of your bike. With over 1,500 individual parts on a bike, you want a technician you can trust. Our Barnett-certified technicians will put in the work to make sure your bike is running like new. Whether you need your bike assembled, a standard tune-up, or an overhaul, we've got you covered at the Sioux Falls SCHEELS! They will also install tray-style and mast-style bike racks in your car for upcoming adventures! To learn more about our bike shop and gear, check out the article on the Sioux Falls Bike Shop!
The Sioux Falls SCHEELS is proud to be a Minnkota Authorized Service Center and has a team of Authorized Service Center (ASC) experts that are happy to provide repair and tune your trolling motor to keep it working like new. For the ice anglers out there, the Sioux Falls service shop also provides ice house assembly for all ice shelters sold in store (Clam, Otter, and Eskimo). If you're curious about what else the Sioux Falls SCHEELS has to offer for anglers, check out our article on the Sioux Falls Fishing Shop!
Get ready for the snow and slopes with snowboard waxing and tune-ups. Our SCHEELS technicians at the snowboard and ski shop can repair almost all models from edge sharpening and base wax, to major base and edge repair. The Sioux Falls service shop will also put together mounting systems on your snowboards and skis as well! Don't let your snowboard or skis compromise your performance, keep it functioning at its best with technicians you trust.
Archery Shop Repairs & Tune-ups
Get ready for your archery season with a fresh tune-up to maximize your performance. Our bow technicians provide bow set-up, bow tuning, and new strings and cables to make sure your bow is in top condition. Price is determined on a case-by-base basis and the quality of work is detail-oriented to provide consistent customer satisfaction.
Sport & Recreational Services
If you play sports or you're getting sporting goods for a little one in your life, it's important to preserve the lifespan of your gear. The Sioux Falls Service shop works with gear for baseball, softball, tennis, hockey, and more. Check out the list below for some of the services offered!
Baseball & Softball
Bat regrip

Glove conditioning

Glove Lace Replace - All

Glove Lace Replace - Single
Tennis
Racquet regrip

Racquet stringing
Backyard Toys
Hoop assembly

Trampoline assembly
Rollerblades & Skateboards
Full Build

Wheel installation

Bearing installation

Griptape installation/removal
Hockey
Skate bake

Blade replacement

Single rivet replacement

Holder (tuuk) replacement

Skate sharpening (basic or advanced)
If you're interested in further details about our service shop or our rates, contact Sioux Falls and request the Service Shop to speak with an expert.