Eau Claire Green Bay Packers Apparel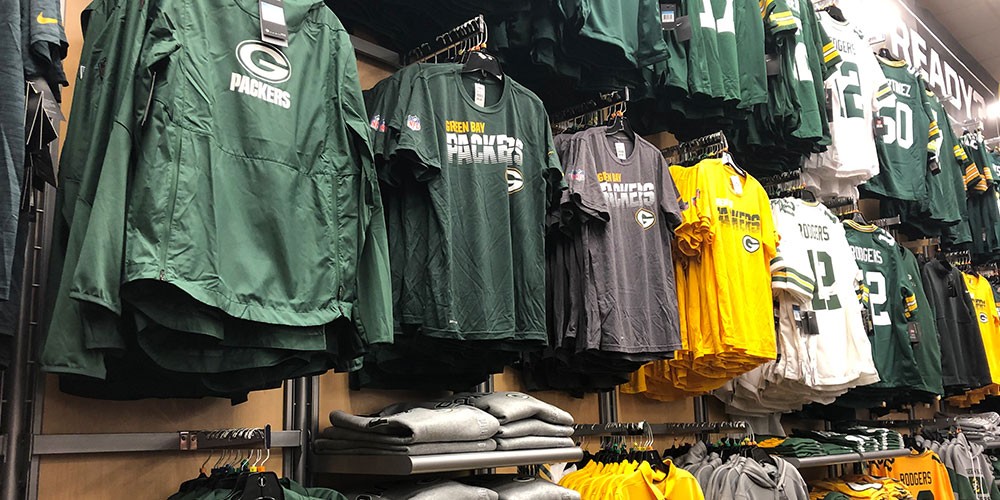 Get ready to cheer on your favorite team with Green Bay Packers apparel, accessories, and more. Whether you're driving to Lambeau Field for the big game, watching in your living room, or listening to Cheesehead TV, you can wear your Packers jersey, apparel, and more to support the GB Packers all year long. Don't forget to browse our supplies for GB Packers tailgating too!
Green Bay Packers Apparel
Whether you're looking for a gift for a family member or wanting to treat yourself, our large selection of Green Bay Packers apparel has you covered. From the iconic Packers jerseys to Green Bay Packers hoodies, shirts, windbreakers, polos, flannels, quarter-zips, and more, we have apparel that's ready for any weather. In addition to men's and women's apparel, we also carry Green Bay Packers kids apparel so the kids can join in on the fun and show their Packer pride.
Green Bay Packers Accessories
For the ultimate Packers fans, we carry a variety of accessories to deck out your wardrobe or home. From headbands and earrings to Green Bay Packers hats and iconic cheese heads, our Green Bay accessory selection will help you show your Packer pride from head to toe. We also carry Green Bay Packers footballs, helmets, frames, clocks, and more that you can display in your home or office.
Green Bay Packers Tailgating
If you're preparing for tailgating in Lambeau Field or with family and friends in the backyard, make sure to stop by your Eau Claire SCHEELS for all your supplies. From coolers and grills to folding chairs, koozies, cups, and more, we have everything you need for Green Bay Packers tailgating. Don't forget to check out our selection of yard games to keep the fun going as you wait for the big game to begin.
If you have any questions about our Green Bay Packers selection, please contact Eau Claire for more information.