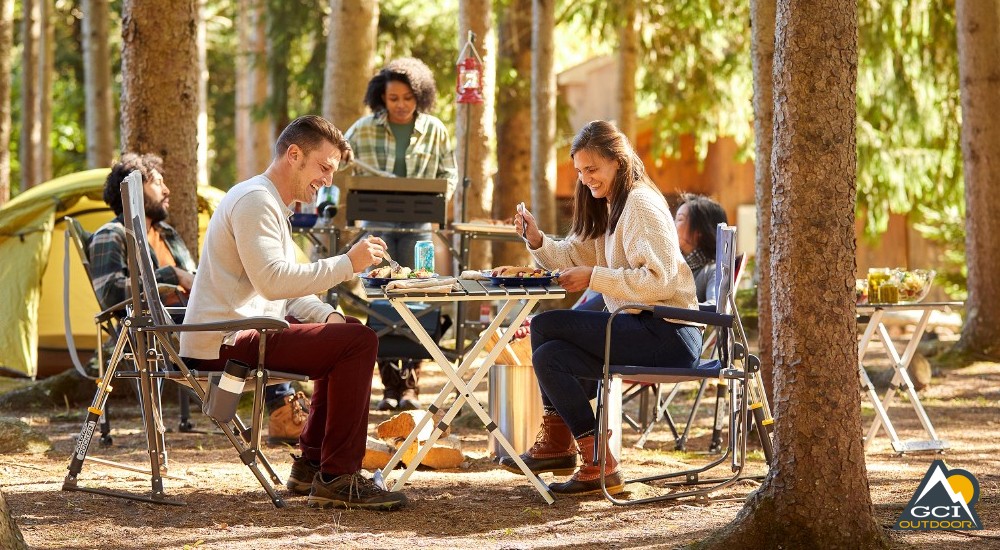 Whether you need a new chair for camping, outdoor sporting events, or your backyard, our SCHEELS experts have done the research and compiled a list of the best camping chairs. We know how important a comfortable yet sturdy chair is to enjoy your time outdoors and we want to make sure you have a seat that will allow you to relax for an extended period of time. A high-quality camp chair will offer a comfortable balance between support and cushioning, similar to your favorite furniture at home. The key characteristics that our best camping chairs have are stability, comfort, and ease of set-up.
Best Rocking Camping Chairs
Turning attention to the new age of the camping chair! Both of these GCI Outdoor Rockers offer top-level comfort with a spring-action design to give you the ability to rock back and forth as if you were in your living room. Once you try out an outdoor rocking chair, you will understand why these are popular and our top two choices for the best camping chairs. In addition, both of these outdoor rocking chairs have sturdy bottoms and backing for all-day comfort. For convenience and easy transportation, you can fold them flat and carry them using the handle. Be one of the most comfortable people at your next tailgate or camping trip with an outdoor rocking chair.
Recline, lock into place, then relax with your feet up in a Caravan Canopy Zero Gravity Chair. These are must-have outdoor lounging chairs. Whether you are relaxing at the lake or on a camping trip, zero gravity chairs are one of the most comfortable camping chairs because of the adjustable headrest and a lay-flat design. Plus, zero gravity chairs fold and collapse so you can store them very easily. The double-bungee system strikes a comfortable balance between a supportive and cushioned feel. Many of our customers enjoy the option to put their chairs on the deck to recline back and catch some sunshine with friends and family.
Best Lightweight Camping Chairs
Grab and go! Both of these chairs boast their own individual benefits. These camping chairs are built for individuals who want a lightweight and comfortable camping chair that can easily be brought to sporting events, concerts, or camping. Highlighted with strong steel frames for durability, these two camping chairs will take the load off your legs so you can enjoy your time with friends and family. When you lean back into either one of these lightweight camping chairs, you will be supported by strong backing that will keep you in a comfortable position for long periods. As a bonus, both of these choices for our best camping chairs come with a carrying bag for easy transportation and storage.
Whether you are sitting on your deck, at the ballgame, or at your favorite band's concert, make sure you are comfortable in a high-quality camping chair. Create more memories with friends and family while enjoying the outdoors with SCHEELS selection of camping chairs. For more information on camping, be sure to check out our other Camping & Hiking Expert Articles.