Paddle Boarding for Beginners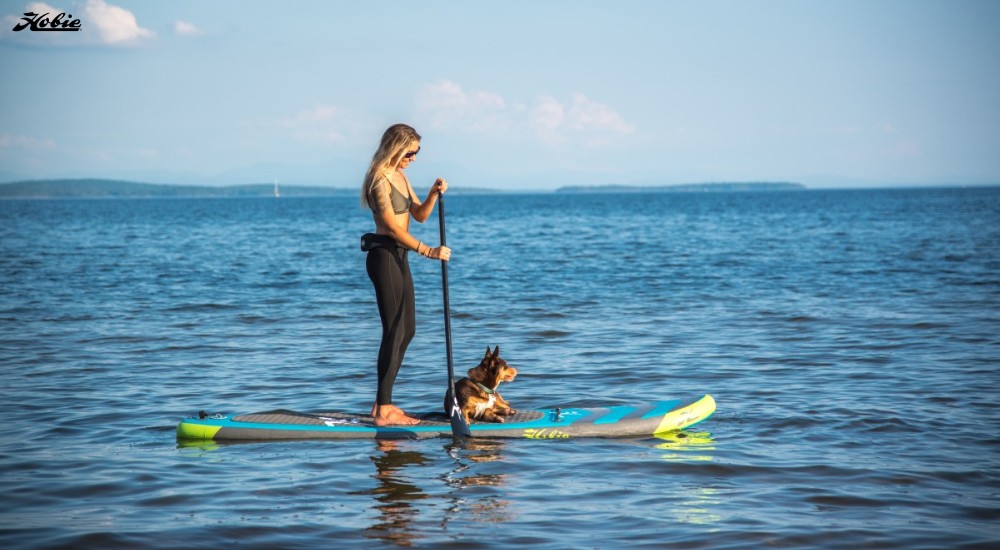 Stand-up paddle boarding, often shortened to SUP, is a fun way to stay active and spend some time on the water. Originating during the 1940s in Hawaii, SUP has become popular across the United States as a recreational activity. Renting a stand up paddle board is a great way to see if you enjoy this activity, but owning your own SUP board offers you more flexibility in your paddling adventures. If you're interested in paddle boarding but aren't sure where to start, check out our Expert advice on paddle boarding for beginners, including the types of boards available, what you'll need to paddle board, and more!
The Basics of Stand Up Paddle Boards
As with any activity, it's important to think about how you are going to use your piece of equipment. Buying a paddle board is an investment, so you want to make sure you find one that fits the type of activities you plan on doing. Pay attention to these features while selecting your new paddle board.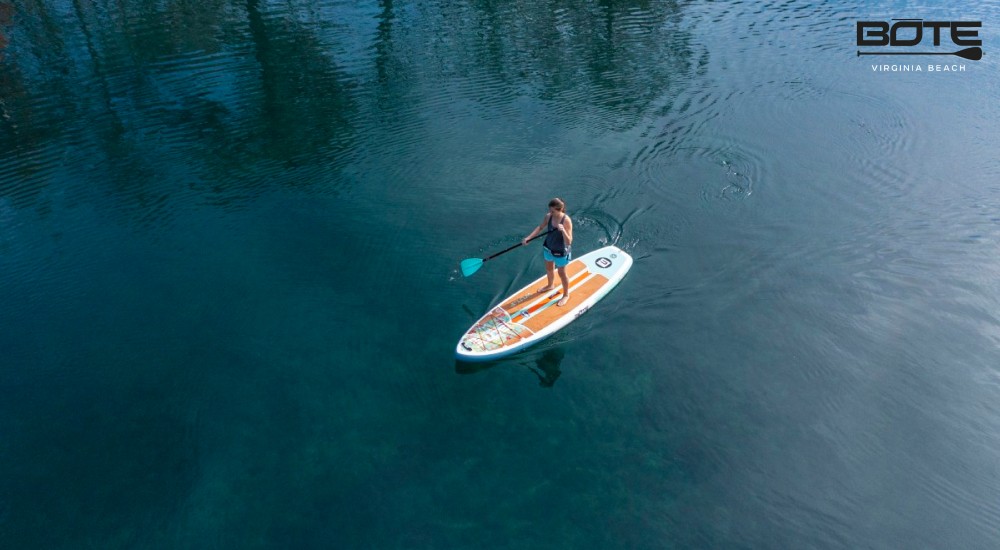 There are two main types of paddle boards: traditional (solid) and inflatable stand-up paddle boards. Most beginners choose an inflatable paddle board because they are more stable, easier to learn on, and resistant to scratches and dents compared to traditional boards. Plus, inflatable paddle boards are usually more affordable too.
Paddle Board Length and Width
You'll also want to consider the length and width of the SUP board. Generally, wider boards are more stable on the water, while longer boards cut through the water more efficiently. Beginners will want to look for a SUP between 10 to 12 feet in length: this gives you a great balance between length and width, keeping the board stable and easy to maneuver. Kids' SUP boards are usually around eight feet long, but if both kids and adults will be using the board, a 10 foot SUP will allow almost everyone in the family to have fun on the water! For more information on choosing a SUP board, check out our paddle board buying guide.
Stand Up Paddle Boarding Essentials
For any adventure, safety is always important to keep at the forefront of your mind. When you head out on your paddle boarding adventure, you'll want to make sure you bring the following items so you're prepared for any situation.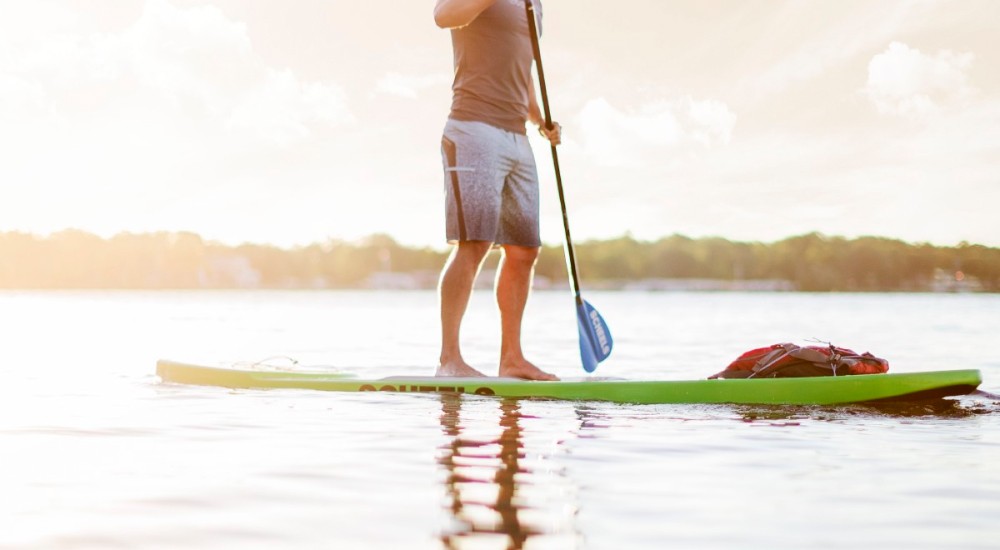 Life Jacket (PFD):

Wearing a properly fitting

life jacket

is a must to keep you safe in case of a fall. To find the right size life jacket for your paddle board adventure, check out our

life jacket sizing guide

.

SUP Leash:

To prevent your board from floating away, use a SUP leash in order to connect your board to your ankle

Clothing:

Depending on the outdoor temperature, it's best to wear layers while paddle boarding. If you're going to be in direct sunlight for an extended period of time, wearing a hat, long sleeves, and

sunglasses

will help protect you from the sun's UV rays.

Water Bottle & Snacks:

When you head out for a day paddle boarding trip, you want to make sure that you stay hydrated. Bring a small backpack with a large water bottle and healthy snacks.

HydroFlask

and

YETI

water bottles are a popular option because they keep your water refreshingly cold even in warm weather.

Light & Whistle:

A whistle allows you to call for help should you happen to need it, while a

headlamp

is ideal if you plan on your adventure lasting past daylight hours.

Sunscreen:

Make sure you have

sunscreen

packed in your backpack. You'll want to remember to reapply your sunscreen every two hours for protection from the sun's harmful rays.
How to Get on a Paddle Board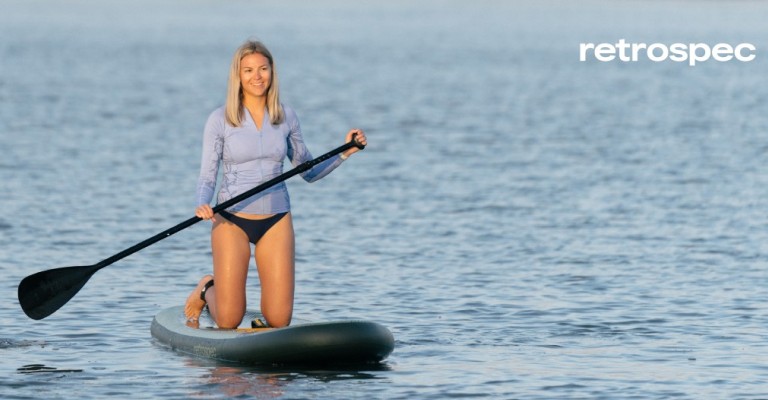 With your board and gear ready to go, it's time to hit the water! Here's how to stand up on your SUP:
Walk next to the board until the water is about knee-deep

Grab the board on each side and climb onto the board, placing your knees on the pad. You should be in a kneeling position with your knees about shoulder-width apart and just behind the carry handle in the center.

While holding the paddle, place your hands on the side of the board to stabilize yourself and place your feet where your knees are, one at a time.

Keep your knees bent to help balance and stand up in two motions: first, raise your chest, then extend your legs like you're doing a squat.

To stay balanced on the board, keep your feet shoulder-width apart with your knees slightly bent and your head and chest upright.
You may find it helpful to practice standing up on land before launching in the water. You can also practice paddling on your knees if you have an adjustable paddle to help you get comfortable balancing before standing up. The most important thing when learning to SUP is to go at your own pace and work your way to the next step when you feel comfortable.
Stand Up Paddle Board Activities
Most recreational paddle boarders use their SUP to ride around on the water and enjoy the scenery. While this can be a lot of fun, you can use your SUP board for more than just short trips around the lake. There are lots of ways to stay active with your new paddle board.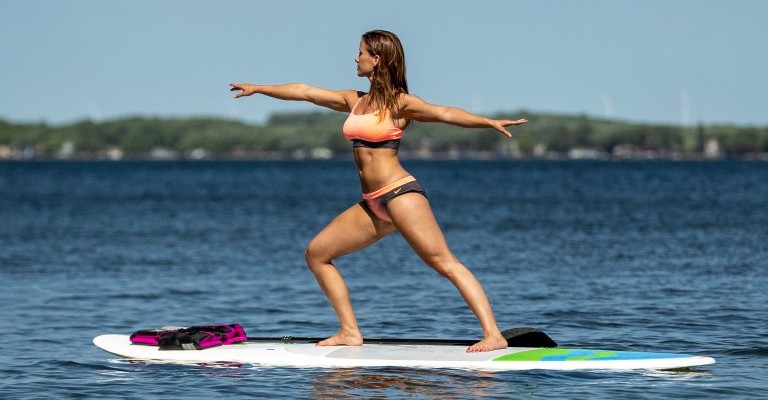 For a relaxing experience on the water try a session of paddle boarding yoga, also known as SUP yoga. While practicing SUP yoga, you'll need to engage different muscles in order to stay balanced on the water, providing a powerful toning workout. Also, practicing SUP yoga allows you to enjoy nature's sounds and smells, keeping your mind focused.
If you're an avid angler and looking for a new way to navigate shallow waters, use your paddle board for a day of SUP fishing. With a paddle board, you have plenty of room to store all of your fishing gear and accessories. Plus, a SUP board is nearly silent while maneuvering through the water so you won't scare off your next catch.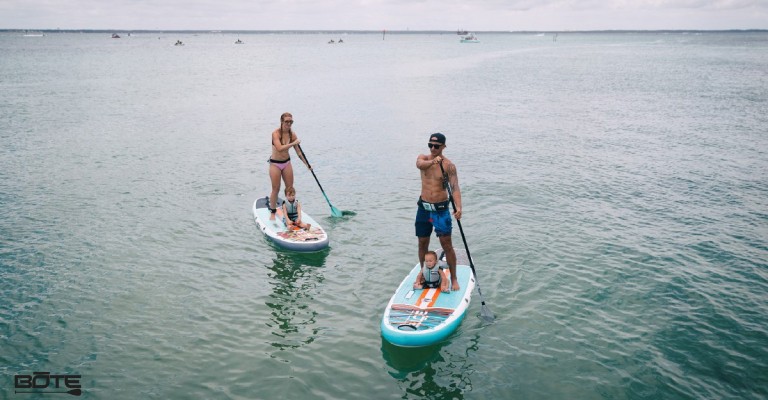 You don't have to paddle board alone! Most paddle boards have enough room for your dog or small kids to ride along with you. You can also get some friends together and go on a group SUP ride. This is a fun way to spend quality time with the people (or pets) you love!
For those who love some competition, you can train and participate in a SUP race. With the right type of paddle board, you can practice moving quickly through the water so you're ready for the competition during a race.
With these tips and the necessary gear, you'll be ready to start paddle boarding! Please note that you may need to register your board as a watercraft depending on where you live—each state's requirements vary regarding registration so be sure to check with your local agency before hitting the water. For additional help and information on selecting a SUP board and paddle, contact your local SCHEELS store to speak with Water Sports Expert.