Blackfish Men's Apparel Size Chart
Blackfish Men's Apparel Sizing Information
| Size | Chest (in.) | Waist (in.) | Torso (in.) | Sleeve (in.) | Inseam (in.) |
| --- | --- | --- | --- | --- | --- |
| S | 35 - 37 | 28 - 30 | 25.5 | 37 | 30 |
| M | 38 - 40 | 31 - 33 | 26.5 | 38 | 31 |
| L | 41 - 43 | 34 - 37 | 27.5 | 38.5 | 32 |
| XL | 44 - 47 | 37 - 41 | 28.5 | 39 | 32 |
| 2XL | 48 - 50 | 42 - 44 | 39 | 40.5 | 33 |
| 3XL | 21 - 53 | 45 - 47 | 29.5 | 41.5 | 33 |
HOW TO MEASURE:
*For optimum fit, measure while wearing a typical garment such as a sweatshirt.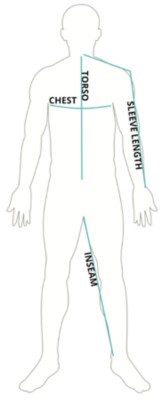 CHEST
Measure around chest 1" below armpit.
SLEEVE LENGTH
Measure from center spine across the shoulder down the arm past wrist.
TORSO
Measure where the slope of your shoulders meets your neck, down the ribcage to the top of your hip bones.
WAIST
Measure 1" above the belt line.
INSEAM
Measure from crotch to inside ankle.