Bontrager Men's Apparel Size Chart

Bontrager Men's Apparel Sizing Guide
*PRO FIT / FITTED / SEMI-FITTED / LOOSE FIT
| Size | Chest (in.) | Waist (in.) | Hips (in.) |
| --- | --- | --- | --- |
| XS | 33 - 35 | 27 - 29 | 33 - 35 |
| S | 35 - 37 | 29 - 31 | 35 - 37 |
| M | 38 - 40 | 32 - 34 | 38 - 40 |
| L | 41 - 43 | 35 - 37 | 41 - 43 |
| XL | 44 - 46 | 38 - 41 | 44 - 46 |
| 2XL | 47 - 49 | 42 - 45 | 47 - 49 |
| 3XL | 50 - 52 | 45 - 48 | 50 - 52 |
HOW TO MEASURE:
Measurements on the sizing chart reflect the actual measurements of the body's circumference (not product's measurements). Use a cloth measuring tape to measure your body. All measurements should be taken while standing up straight with feet shoulder width apart. For maximum accuracy, take measurements next to skin.
1 - CHEST
Measure around the fullest part of your chest under your armpits with your arms relaxed at sides. Keep the measuring tape parallel to the ground.
2 - WAIST
Measure around the natural waist, which falls at the natural curve of the body--the indentation between the hips and the ribcage. The measuring tape should be close to the body but not snug.
3 - HIPS
Wrap measuring tape around the fullest part of the hips and buttocks. Keep the measuring tape parallel to the ground.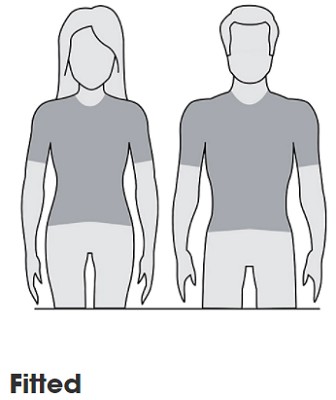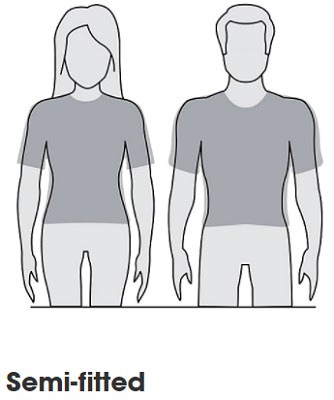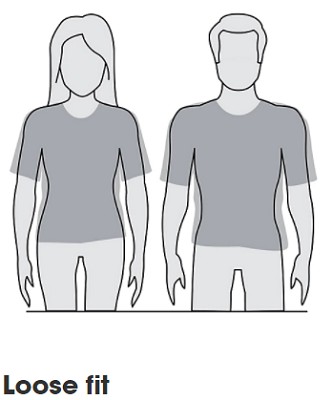 Apparel Fit Profiles
Bontrager apparel is designed around three different fit profiles. Reference the silhouettes below and each garment's fit profile as you may want to size up or down depending on how tight or loose you prefer to wear your cycling clothing.
FITTED
Fitted cut provides streamlined body fit for enhanced performance
SEMI-FITTED
Semi-fitted cut leaves room for movement without hindering performance
LOOSE FIT
Loose fit allows for freedom of non-restrictive movement and casual style