Drake Waterfowl Men's Apparel Size Chart

Drake Men's TOPS Sizing Information
*Body Measurements are in INCHES
| Size | Chest | Waist | Hips | Neck | Arm Length |
| --- | --- | --- | --- | --- | --- |
| S | 34 - 36 | 28 - 30 | 36 - 37 | 14.5 - 15 | 33 |
| M | 37 - 40 | 31 - 34 | 38 - 41 | 15.5 - 16 | 33.5 - 34 |
| L | 41 - 44 | 35 - 38 | 42 - 45 | 16.5 - 17 | 34.75 - 35 |
| XL | 45 - 48 | 39 - 42 | 46 - 49 | 17.5 - 18 | 35.5 - 36 |
| 2XL | 49 - 52 | 42 - 46 | 50 - 53 | 18 - 18.5 | 36.5 - 37 |
| 3XL | 53 - 55 | 47 - 49 | 54 - 56 | 19 - 19.5 | 37 |
| 4XL | 56 - 59 | 50 - 52 | 57 - 59 | 19.5 - 20 | 37 |
| 5XL | 60 - 63 | 53 - 55 | 60 - 62 | 20 - 20.5 | 37 |
| 6XL | 64 - 67 | 56 - 60 | 63 - 66 | 50.5 - 21 | 37 |
Drake Men's BOTTOMS Sizing Information
*Body Measurements in INCHES
| Size | Waist | Hips | Inseam |
| --- | --- | --- | --- |
| S | 28 - 30 | 36 - 37 | 30 |
| M | 31 - 34 | 38 - 41 | 31 |
| L | 35 - 38 | 42 - 45 | 32 |
| XL | 39 - 42 | 46 - 49 | 32 |
| 2XL | 43 - 46 | 50 - 53 | 32 |
| 3XL | 47 - 49 | 54 - 56 | 32 |
| 4XL | 50 - 52 | 57 - 59 | 32 |
| 5XL | 53 - 55 | 60 - 62 | 32 |
| 6XL | 56 - 60 | 63 - 66 | 32 |
*If you are 5'6" - 6'3" and your waist measures the same or larger than your chest, you should order up one size. BIG Sizes are designed for men with a full waist & average height.
Drake Waterfowl clothes are generously cut to accommodate the active lifestyle of our customers. We recommend you measure your and match as closely as possible to the measurements stated. Hold tape firm and level, but not tight while measuring.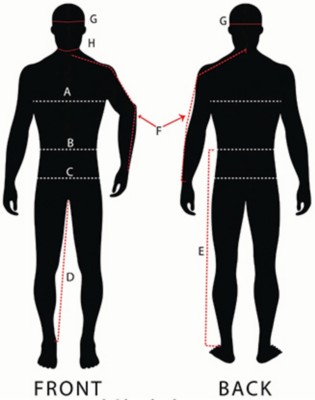 The following information is intended for use as a general guideline, locate your measurements on the size chart above to determine the appropriate size to purchase.
HOW TO MEASURE:
A = CHEST: Measure around the fullest part under your arms.
B = WAIST: Measure around your natural waistline.
C = HIPS / SEAT: Standing with feet together, measure around the fullest part of your hips (approximately 7-8" below the natural waist).
D = INSEAM: Measure from the crotch down to the ankle bone or top of foot.
E = OUTSEAM: Measure from the natual wiast down to the knee for shorts; ankle bone or top of the foot for pants.
F = SLEEVE LENGTH: With slightly bent arm, start from the center back base of neck, follow the tape around your shoulder, down the arm & around the elbow bend to the wrist bone.
G = HEAD: Start 1" above the ear. Follow around head staying consistent.
H = NECK: Measure around the base of the neck and allow room for wearing comfort.