Jordan Kids' Apparel Size Chart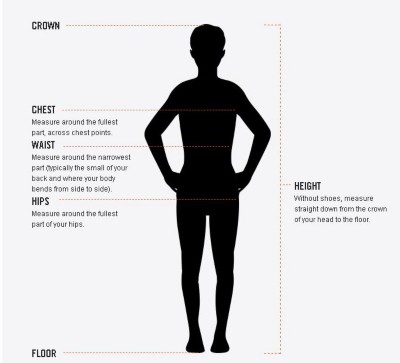 FIND YOUR SIZE
Use the chart below to determine your size. If one of your measurements is on the borderline between two sizes, order the smaller size for a tighter fit or the larger size for a looser fit. If your measurements for hips and waist correspond to two different suggested sizes, order the one indicated by your hip measurement.
CHEST
Measure around the fullest part, across chest points.
WAIST
Measure around the narrowest part (typically the small of your back and where your body bends from side to side).
HIPS
Measure around the fullest part of your hips.
HEIGHT
Without shoes, measure straight down from the crown of your head to the floor.
Jordan BABY & TODDLERS' Apparel Sizing Information
| Size | Age (mo) | Height (in.) | Weight (lbs) | Chest (in.) | Waist (in.) | Seat (in.) |
| --- | --- | --- | --- | --- | --- | --- |
| PREEMIE | 0 | < 17.5 - 20 | < 5.5 | 12.5 | 13 | 13 |
| 0M / NB | 0-3 | 20 - 22 | 6 - 9.5 | 14.5 - 16.5 | 15.5 - 17 | 15.5 - 17 |
| 3M | 3-6 | 22 - 24.5 | 10 - 14.5 | 16.5 - 17.5 | 17 - 18 | 17 - 18 |
| 6M | 6-9 | 24.5 - 26.5 | 15 - 18 | 17.5 - 18 | 18 - 18.5 | 18 - 18.5 |
| 9M | 9-12 | 26.5 - 29 | 18.5 - 22 | 18 - 18.5 | 18.5 - 19 | 18.5 - 19 |
| 12M | 12-18 | 29 - 31.5 | 22.5 - 25 | 18.5 - 19.5 | 19 - 19.75 | 19 - 20 |
| 18M | 18-24 | 31.5 - 34 | 25.5 - 28 | 19.5 - 20.5 | 19.75 - 20.5 | 20 - 21 |
| 24M / 2T | 24-36 | 34 - 36 | 28.5 - 30 | 20.5 - 21 | 20.5 - 21 | 21 - 21.5 |
| 3T | 36-48 | 36 - 38.5 | -- | 21 - 22 | 21 - 21.5 | 21.5 - 22.5 |
| 4T | 48-60 | 38.5 - 41 | -- | 22 - 23 | 21.5 - 22 | 22.5 - 23.5 |
Jordan LITTLE KIDS' Apparel Sizing Information
| Size | Age (yrs) | Height (in.) | Chest (in.) | Waist (in.) | Hips (in.) |
| --- | --- | --- | --- | --- | --- |
| XS / 4 | 3 - 4 | 38.5 - 41 | 22 - 23 | 21.5 - 22 | 22.5 - 23.5 |
| S / 5 | 4 - 5 | 41 - 43 | 23 - 24 | 22 - 22.5 | 23.5 - 24.5 |
| M / 6 | 5 - 6 | 43 - 46 | 24 - 24.75 | 22.5 - 23 | 24.5 - 25.5 |
| L / 6X-7 | 6 - 7 | 46 - 48 | 24.75 - 26 | 23 - 24 | 25.5 - 26.5 |
| XL / 7X | 7 - 8 | 48 - 50.5 | 26 - 27 | 24 - 25 | 26.5 - 27.5 |
Jordan BIG KIDS' Apparel Sizing Information
| Size | Age (yrs) | Height (in.) | Chest (in.) | Waist (in.) | Hips (in.) |
| --- | --- | --- | --- | --- | --- |
| S / 8 - 9 | 8 - 10 | 50 - 54 | 26 - 27 | 24 - 25.5 | 28 - 29.5 |
| M / 10 - 12 | 10 - 12 | 54 - 58 | 27 - 29.5 | 25.5 - 27 | 29.5 - 31.5 |
| L / 14 - 16 | 12 - 13 | 58 - 62 | 29.5 - 32 | 27 - 28.5 | 31.5 - 33.5 |
| XL / 18 - 20 | 13 - 15 | 62 - 67 | 32 - 35 | 28.5 - 29.5 | 33.5 - 35 |