L.L.Bean Women's Apparel Size Chart

L.L.Bean Women's TOPS Sizing Information
*Height Petite = 5'3" & under Regular = 5'3.5" - 5'6" Reg. Tall = 5'6.5" - 5'8.5 Tall = 5'9" & above
Size
Chest (in.)
Waist (in.)
Reg.
Sleeve (in.)
Petite
Sleeve (in.)
XS / 2 - 4
33 - 34
25.5
29.5
28 1/4
S / 6 - 8
35 - 36
26.5 - 27.5
30 - 30.5
28 3/4 - 29 1/4
M / 10 - 12
37 - 38.5
28.5 - 30
31 - 31.5
29 3/4 - 30 1/4
L / 14 - 16
40 - 41.5
31.5 - 33
32 - 32.5
30 3/4 - 31 1/4
XL / 18 - 20
43.5 - 45.5
35 - 37
33
31 3/4










PLUS SIZES:









1X / 18W
45.5


32.5


2X / 20W - 22W
47.5


32 7/8 - 33 1/4


3X / 24W - 26W
51.5


33 5/8 - 34


L.L.Bean Women's BOTTOMS Sizing Information
*Height Petite = 5'3" & under Regular = 5'3.5" - 5'6" Reg. Tall = 5'6.5" - 5'8.5 Tall = 5'9" & above
Size
Natural
Waist (in.)
Hips / Seat
(in.)
2
25.5
35.5
4
26.5
36.5
6
27.5
37.5
8
28.5
38.5
10
29.5
39.5
12
31
41
14
32.5
42.5
16
34
44
18
34
46
20
38
48






PLUS SIZES:





18W
39
48.5
20W
41
50.5
22W
43
52.5
24W
45
54.5
26W
47
56.5
L.L.Bean Women's SWIMSUIT TORSO MEASUREMENTS
Size
REGULAR
Torso (in.)
LONG
Torso (in.)
4
57
59
6
58.5
60.5
8
60
62
10
61.5
63.5
12
63
65
14
64.5
66.5
16
66
68
18 - 20
67.5
69.5
L.L.Bean Women's GLOVES & MITTENS Sizing Information
| Size | *Hand (in.) |
| --- | --- |
| S | 6 - 6.5 |
| M | 7 - 7.5 |
| L | 8 - 8.5 |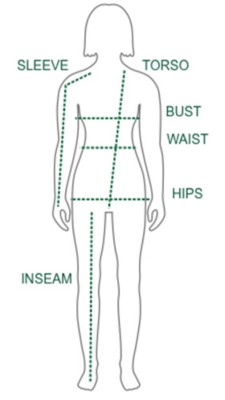 HOW TO MEASURE:
Chest/Bust
Measure around the chest at the fullest point of the bust.
Waist
Measure around your natural waistline.
Hips/Seat
Measure around fullest point of seat while standing.
Inseam
Measure similar pants that fit you well. Lay them flat, with the front and back creased smooth. Measure along the inseam from crotch to bottom of leg hem.
Sleeve Length
With arm relaxed at your side and slightly bent, measure from center back neck, over point of shoulder, down the outside of the arm to the wrist.
Torso (Swimsuits)
Start by the neck at the highest point of the shoulder, then measure down over the chest through the crotch and continue up the back to the starting point.
Head (Hats and Caps)
Measure around the largest part of the head, with tape above brow. Convert to hat size using the chart on the Size Chart tab.
*Hand (Gloves and Mittens)
Measure around the knuckles with hand flat (exclude thumb). Number of inches equals glove size.
Belts
To find the right size, first think about where you prefer to wear your pants–either at the waist or lower on the waist. This will affect the fit of your belt. Measure around where your waistband generally falls and compare that number with our size chart to get the best belt fit.
FIT GUIDE: TOPS
RELAXED = Sits farthest from the body.
SLIGHTLY FITTED = Softly shapes the body.
FITTED = Sits close to the body.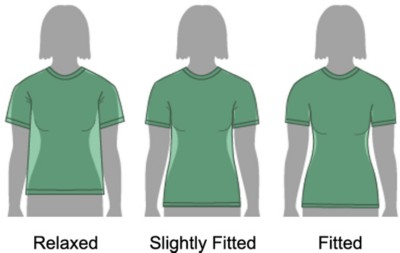 FIT GUIDE: WAIST LINES
ORIGINAL = Sits higher on the waist.
CLASSIC = Sits at the waist.
FAVORITE = Sits lower on the waist.
MODERN = Sits lowest on the waist.