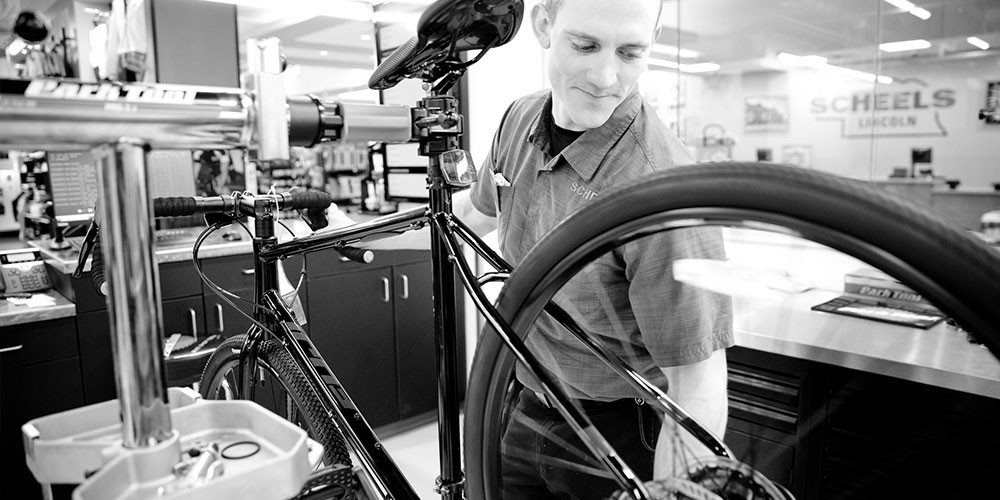 Don't let your gear get in the way of your performance. The Lincoln SCHEELS Service Shop has Barnett-Certified technicians to keep your bike, snowboard, or other equipment working like new. Whether your passion is biking, snowboarding, baseball, or tennis, our technicians will make sure your gear enhances your performance.
From tune-ups and repairs to bike assembly, our Barnett-certified service shop technicians have just what you need to keep your bike in top condition. Whether you're looking to purchase a new bike or getting a tune-up for a big trip, we have what you need. Each of our mechanics receive intensive training at the Barnett Bicycle Institute in Colorado Springs, CO and offer standard tunes, comprehensive tunes, brake adjustments, and more. If you're looking for a technician you can trust, look no further than the Lincoln SCHEELS Service Shop for your bike.
Get ready to hit the slopes with your freshly waxed snowboard or skis from our Lincoln SCHEELS service shop. Our certified technicians are here for all your tuning and repair needs to keep your gear functioning at its best. Whether you're looking for edge sharpening for your snowboard or binding adjustments for your skis, our trusted technicians will make your equipment as good as new while you prepare for the next adventure.
Sport & Recreational Services
Whether you play sports recreationally, in college, or caring for your child's gear, the Lincoln Service shop has you covered! From baseball, tennis, and hockey services to services on recreational gear like trampolines and skateboards, our service shop technicians will make sure your gear is working like new!
Baseball & Softball
Bat regrip

Glove conditioning

Glove Lace Replace - All

Glove Lace Replace - Single
Tennis
Racquet regrip

Racquet stringing
Backyard Toys
Hoop assembly

Trampoline assembly
Rollerblades & Skateboards
Full Build

Wheel installation

Bearing installation

Griptape installation/removal
Hockey
Skate bake

Basic sharpen (½ in.)

Advanced sharpen (Customizable hollow radius)
If you have questions about the rates or other details of the Lincoln SCHEELS Service Shop, contact one of our experts at Lincoln for more information.