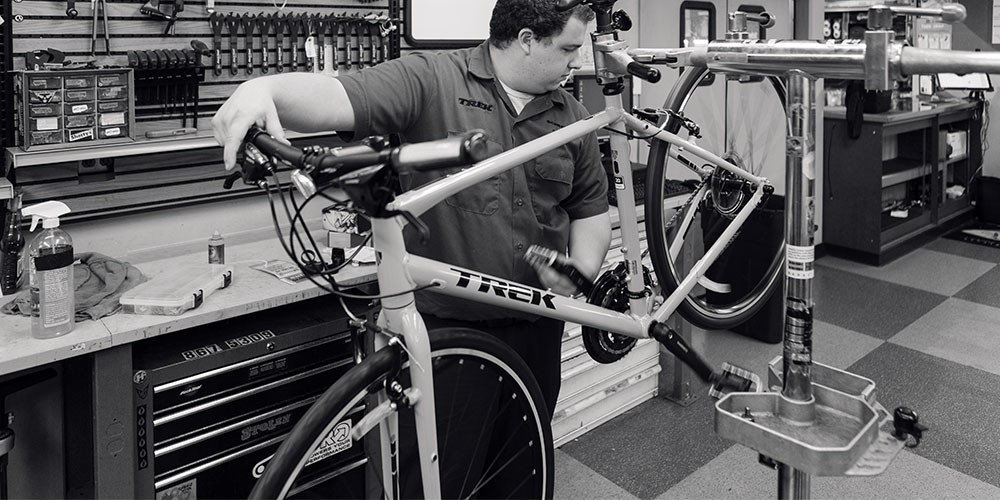 From bikes to cycling gear to bicycle repair, Bismarck SCHEELS has the gear and services you're looking for. Whether you're buying your child's first bike or need a tune-up before your first ride of the year, the expert technicians at the Bismarck SCHEELS Bike Shop are ready to help. Plus, we're a certified TREK dealer and are committed to finding you the perfect bike to make the most of your ride. Learn more about our Bike Experts and services below!
At SCHEELS, we understand the complexities that go into maintaining and repairing bikes. That's why we send our bike technicians to a 10-day course at the renowned Barnett Bicycle Institute in Colorado Springs, CO. During this course, our bike technicians receive hands-on training for bike assembly, maintenance, and repair. The Bismarck Bike Shop will do everything from safety checks and standard tune-ups to adjustments to your brakes, derailleur, hubs, and more. If you're looking for a bike shop nearby that provides everything from tune-ups to repairs, you can trust our SCHEELS bike technicians to deliver expert service to get you back on the road.
Bike builds
Bike tune-ups
Brake adjustments
Component installation
Wheel, spoke, and hub repair
Tubeless setups
Derailleur adjustments
E-bike updates & diagnostics
Tube, chain, and cable replacement
And more!
Are you searching for a new bike that can keep up with your lifestyle? Browse our large selection of bikes for every activity from mountain biking to a casual ride around town. We also carry other biking essentials like bike helmets, bike trailers and strollers, and more. If you already have all the essentials for your bike, check out our wide selection of bike accessories like water bottles and cages, bike racks, bike pumps, locks, and more.
Our bike experts at SCHEELS share your passion for biking and attend SCHEELS Bike University to learn everything they can to help guide your purchase. Factory instructors and engineers teach our experts about the benefits of each bike and allow the experts to test drive them in real world conditions. If you have any questions about our bike shop and services, please visit or contact Bismarck SCHEELS for more information.