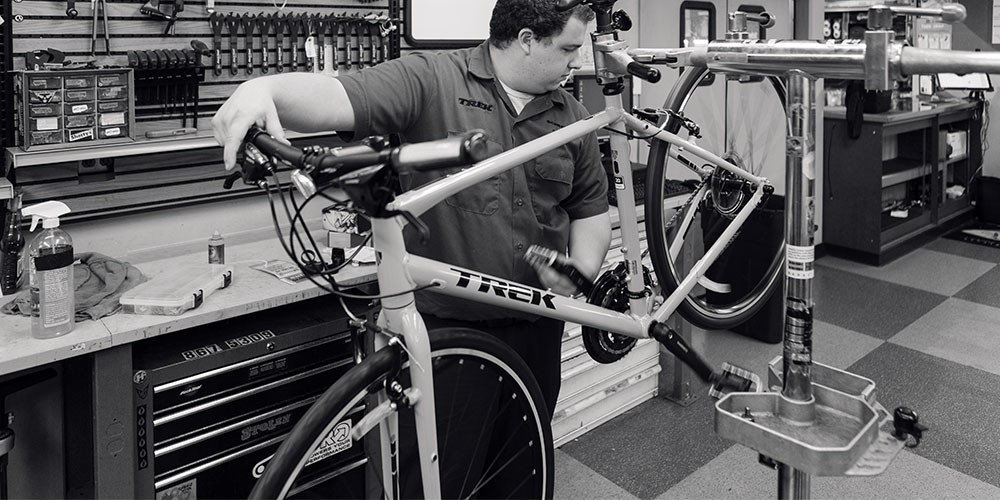 Moorhead and the surrounding area offers a wide variety of outdoor activities to enjoy all year long, but before you take on your next outdoor adventure, make sure you stop by the Moorhead SCHEELS Service Shops to make sure your gear is in working condition. Whether you're hitting the hills at Detroit Mountain in the winter or exploring the local bike paths, our team of experts will ensure your equipment is ready for it all. Learn more about our Moorhead SCHEELS Service Shop repairs and services for bikes, skis, snowboards, ice skates, and more!
Bike Repair & Service Shop
Moorhead SCHEELS Bike Repair & Service Shop is here to serve you through all stages of bike ownership. Whether you have a new bike you want to install accessories on or you need repairs on an old bike, you can trust our team of skilled bike technicians to take care of your bike and equipment like it's their own. Our Barnett-Certified Bike Experts receive hands-on training at an intensive, 10-day course at the Barnett Bicycle Institute in Colorado Springs, Colorado so they're prepared to service virtually any bicycle.
If you're looking for a bike service or bike repair shop in the Moorhead area, look no further than Moorhead SCHEELS. You can trust the Moorhead SCHEELS Bike Experts to take care of you every step of the way during bike ownership—that includes assisting you when it's time for an upgrade. You can check out our wide selection of the industry's best bikes and bike accessories for cyclists of all ages, and speak to an associate for the perfect recommendation.
Ski & Snowboard Service Shop
Make sure your skis or snowboard are waxed, edged, and in prime shape for the slopes. Whether you're cross country skiing locally or taking a trip out west to alpine ski, Moorhead SCHEELS Ski & Snowboard Service Shop can get your snow gear ready. We even offer ski binding system mounting if you need help getting ready for the season.
Ice Skate Sharpening & Tennis Racquet Restringing
Minnesota is the State of Hockey, and our Moorhead SCHEELS Experts take the sport seriously. That's why they're trained in ice skate sharpening, skate baking, and blade replacement. Whether you have figure skates or hockey skates, you can bring your skates into our Service Shop for premium skate services and repairs.
Our Moorhead SCHEELS Service Shop offers many more services too such as tennis racquet restringing and baseball glove repairs. If you have any questions regarding our current services and pricing, contact a friendly associate at Moorhead SCHEELS.