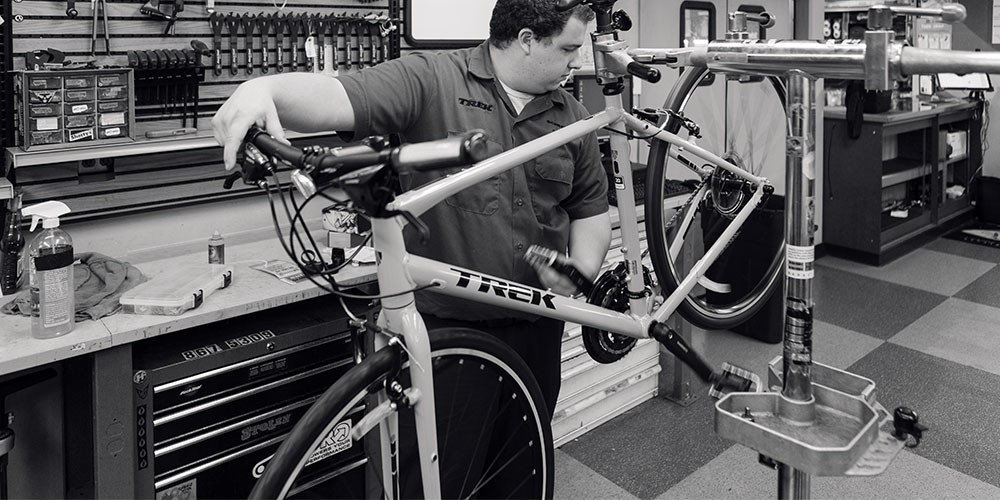 Whether you bought your equipment at SCHEELS or somewhere else, or service shop technicians are happy to take care of your gear so it's working like new. Bring in your snowboard or skis for waxing and edge repair before you hit the slopes or bring in your favorite pair of skates to be sharpened before you take on the ice. Our services don't just cover winter sports, we also offer bike maintenance and repair so your bike can stay in peak condition.
With the SCHEELS service shop, there's no need to wait until your bike is squeaking for a tune-up. Our Barnett-certified technicians receive extensive training and supervised instruction on bike assembly, maintenance, and repair so your bike can function like new. Whether it's a standard tune-up, brake adjustment, accessory installation, or an overhaul repair, our bike technicians will treat your bike as if it were their own. Our SCHEELS service shop is also a certified TREK dealer, so if you own a TREK bike in need of a tune-up or repair, you can trust our technicians to have the tools, resources, and knowledge to service your bike.
Whether you're getting ready to hit the slopes on Buck Hill or you're planning a ski adventure in the Colorado mountains, make sure your skis or snowboard are in top condition before you go. Our certified technicians do everything from edge sharpening and base wax to binding mount installation. Don't let your equipment slow you down on the slopes, take it to the SCHEELS service shop and leave with it working like new. If you're looking to try a snow sport for the first time, make sure to ask our service shop about our cross-country ski rentals, too!
Sports & Recreational Services
The Rochester SCHEELS Service Shop goes beyond bike and snow sports services to cover other popular sporting good services for baseball, tennis, hockey, and more! Check out our chart below for a list of the sport and recreational services we offer at the Rochester Service Shop!
Baseball & Softball
Bat regrip

Glove conditioning

Glove Lace Replace - All

Glove Lace Replace - Single
Tennis
Racquet regrip

Racquet stringing
Backyard Toys
Hoop assembly

Trampoline assembly
Rollerblades & Skateboards
Full Build

Wheel installation

Bearing installation

Griptape installation/removal
Hockey
Blade replacement

Basic sharpen (½ in.)

Advanced sharpen (Customizable hollow radius)
If you have any questions about the services we provide, please contact Rochester for more information.