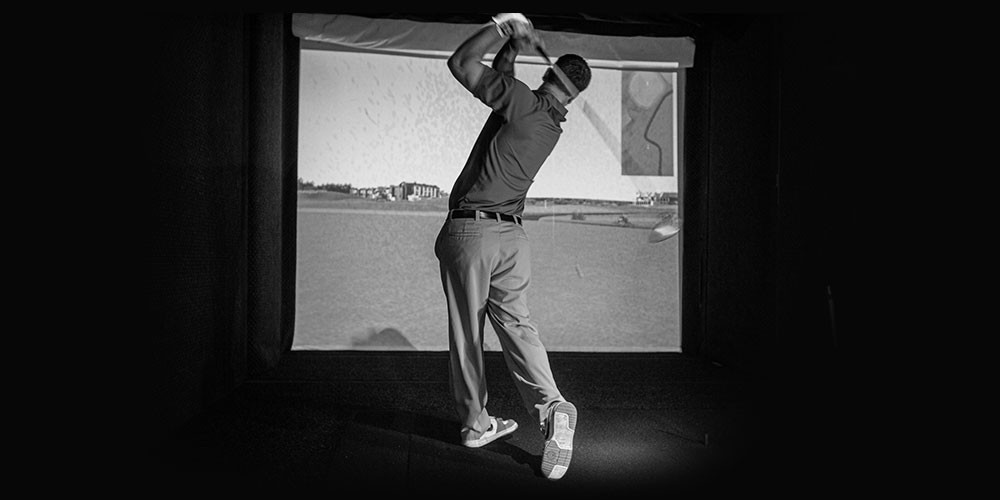 Improve your swing and stay under par with golf club fittings at the Bismarck SCHEELS. From customized golf club fittings in our golf simulator to golf club regripping, our golf shop has everything you need for success on the course. Our Bismarck SCHEELS has been rated the "Best of the Best Golf Shop" by the Bismarck Tribune for the last two years, and takes pride in carrying a large selection of leading brands like Titleist, Ping, Callaway, Taylormade, and more.
Bismarck SCHEELS Golf Club Fitting
If you're ready to take your golf game to the next level, a custom golf club fitting at our Bismarck SCHEELS is an excellent choice. You will spend 30-60 minutes with one of our golf experts in the golf simulator to analyze your game. Whether you frequently make hook shots or are looking for an extra edge to score under par, our golf simulator will provide metrics that will help you hit an accurate, consistent shot.
Based on metrics from the golf simulator, our experts can identify the weaknesses in your game and provide advice on form or equip you with clubs that provide better control, consistency, and success. Our SCHEELS golf experts share your passion for golf and prioritize helping improve your game over making a sale. If you finish the golf fitting there is no need to make a purchase if you are not ready.
Our golf fittings and services are offered during our hours of operation:
-Monday - Friday: 9:30am - 9:00pm
-Saturdays: 9:00am - 7:00pm
-Sundays: 11:00am - 6:00pm
Bismarck SCHEELS Golf Club Fitting Rates
A golf fitting at the Bismarck SCHEELS is $50. If you purchase irons or a driver after the fitting, the $50 is credited toward your purchase. The rates of our golf club services are listed below:
-Driver fitting: $20.00
-Iron set fitting: $50.00
-Regripping: $2.00 per club
If you are interested in further details regarding our golf club fittings or golf simulator, contact our Bismarck SCHEELS to speak with an expert.